Review | The Raver: Young Frivolous Love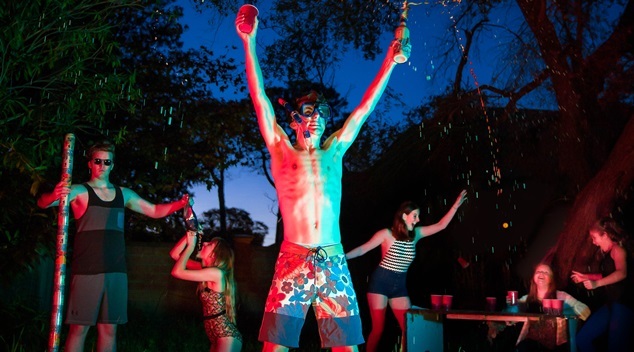 The Raver | Victoria Park Hotel | Until Feb 1 | ★ ★ ★ ½
High school was turbulent at best. Young frivolous love, Drinking way more than you should and experimenting with other recreational treats that may appear along the way – all culminating into typical, horny, teenage drama. For the most part, we've all been there and learned from our mistakes… (At age twenty-something, sadly, I'm still comfortably there).
This contemporary adaptation of Aphra Behn's The Rover, was one huge belly-flop back into those easy breezy, carefree days but in particular those parentless pool parties we loved. Dim lighting hiding stained floors, muffled bassy music drown out conversation and of course the screaming girls, which all perfectly set the scene. For the second time this week, I could practically taste the Passion Pop fizzing down the back of my throat!
As an openly gay boy growing up in the 'burbs, I often experienced, deeply, both sides of the boy/girl drama that typically unfolded at gatherings, Something not many people were privy too. The girls wanted my opinion on the boys and the boys just needed help talking to the girls. Each with their own warped view on the same situation. The Raver highlights and exploits these same gender perceptions effortlessly, through multiple plot lines and a super quick paced storyline. Everyone is falling in love, lust or just plain falling over.
Although void of any huge emotional depth, the offbeat and humorous throwaway lines from the supporting cast, overall physicality (a cat fight or two) and a tragically heaven attempt at a Spanish accent, helped tie the whole production together.
Brimming with a cast of fresh-faced, ambitious and vivacious West Australian talent, The Raver is like experiencing your first taste of young love again.. without wincing! Take your mother and show her what kind of mischief you got up to in your youth.
Catch The Raver at the Victoria Park Hotel, Tues 31st Jan and Wed 1st Feb. Tickets and more information available from fringeworld.com.au
Samuel England