Review | Talented teams battle it out in 'Burlesque vs Magic!'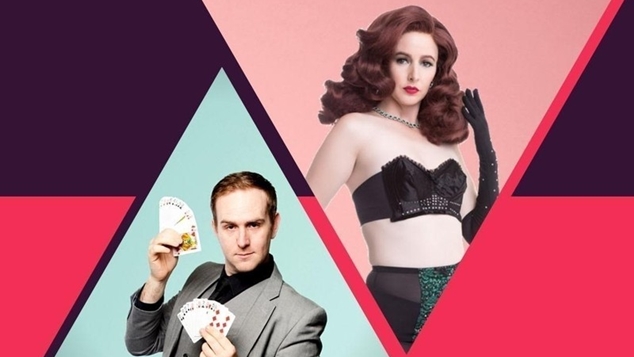 Burlesque vs Magic! | Various venues | ★ ★ ★ ½ 
Burlesque vs Magic! pits two teams of performers against each other, with contrasting art forms, to decide who is the Ultimate Champion. Team magic, headed by Cameron the Magician, comprises of… well, simply Cameron. Team Burlesque, led by Coco Fatale, however, changes their champions at every show, providing some variety for audiences who may have seen the show more than once. Between this husband-and-wife team, they offer a new experience at every show – so if you seen it before, or if you want to see it again, you are guaranteed a new experience and potentially a very different outcome at every show!
The audience welcomed Cameron to the stage at the start of the night enthusiastically, though were somewhat subdued for the rest of the show, despite being 6.30 on a Saturday night. Perhaps it was nerves, perhaps it was the number of people in the audience that hadn't been to a burlesque show before; either way, a sellout crowd is usually much louder!
The premise was set that there were three rounds of the show, and each round contained one magic performance and one burlesque performance. The audience would then choose at the end of the show who was the champion, and the losing Team Captain would have to perform a routine in the style of the winner; If Magic won, Coco would try her hand at magic, but if it was burlesque, we would be treated to a burlesque routine from Cameron.
Cameron the Magician guided the night beautifully with a polished performance on the mic. He may have been the only magician in the cast, but he gave us three rounds of very different magic tricks, each of them remarkably impressive in their own right. Cameron is clearly practised and at ease in his role and shows a clear talent for not only magic but being an engaging host. It would be wonderful to hear more inclusive language as a host, however, with the default term "Ladies and Gentlemen" used throughout the show perhaps not particularly inclusive of the audience members in attendance.
On the burlesque front, we saw Coco Fatale, Lulu Liqueur and Miss Lady Lace take the stage as Team Burlesque. Each of them delivered exactly what we have come to expect from them in the burlesque scene; sensational costumes and glamorous routines that kept the audience hooked from start to finish. The audience showed their appreciation at the end of each performance, whether it was burlesque or magic, and a tight race was run by the end of the show.
It is very clear that we were watching a show produced by two, very talented and very professional performers, supported by an equally talented cast. White I won't spoil who won, and it could change it every show, I will say that by the end of the night, the audience was won over by one team in particular, and the losing team captain had to perform a routine in the opposition's style. Coco and Cameron as team captains were gracious and took the wins and losses as they were intended – a celebration of the opposite art form and the talent that it required. If you haven't seen the show before, definitely pop it on your watchlist – and keep an eye out for other shows that both of these team captains are in. It's a fun and ever-changing hour to spend having a laugh and enjoying some great entertainment.
Catch Burlesque vs Magic! at various venues throughout the festival. Grab tickets at fringeworld.com.au
Kiera (they/them) is a passionate arts creator and consumer, especially in the fields of cabaret and burlesque. Combining 20+ years of arts experience with numerous research and education-based qualifications, they enjoy sharing their knowledge and experiences.
---

You can support our work by subscribing to our Patreon
or contributing to our GoFundMe campaign.