Review: The Divine Miss Bette
Hailing from Sydney (you can tell by the sequins), Catherine Alcorn channels the divine Miss M in this bawdy adults-only cabaret. Alcorn belts out the hits, wears the glitz and shakes her tits like the great dame herself. Which makes sense considering she was trained by Steve Ostrow, the very man who launched Bette Midler's career back in 1970, at New York gay bath-house, Continental Baths.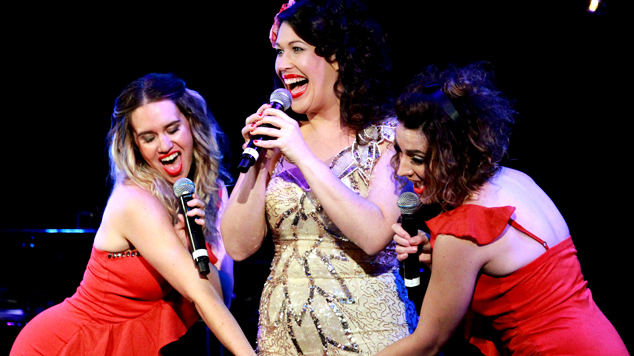 Shimmying down the centre isle flanked by her two aptly-named harlots, Britney and Paris, Miss Bette started the show off with a medley which mashed up corkers like 'Boogie Woogie Bugle Boy' and 'Chapel of Love'. A helluva lot of butt-wiggling, boob squeezing and classic Midler filth followed as Alcorn trotted across the stage channelling Soph, her hilarious, sexually remiss alter-ego.
Alcorn's enormous smile echoed Midler's signature chops but it was the way she used her eyes that really engaged the audience, fluttering across the tent as she delivered a cheeky punch-line, then flashing wide open in mock horror.
The funny stuff was of course punctuated by the ballads, which never failed to solicit rousing applause. Alcorn's voice was breathtaking and her renditions of 'Stay With Me', 'Delta Dawn' and 'Wind Beneath My Wings' showcased an impressive depth and range. On a side note, Catherine Alcorn also sings in Fidel Cathro, an electroband which reveals an altogether different side to this dynamic cabaret artist.
Imitation is the sincerest form of flattery and if you're a fan of Bette Midler you won't be disappointed by Alcorn's charisma, energy and sharp comedic timing on stage. She's an entertaining performer and it will be interesting to see what she does with her talents in the future.
The Divine Miss Bette is cheesy, lewd and over the top – and because of all that, "I will never forget it, you knowwww?"
The Divine Miss M is on at Fringe World until Sunday, February 24.
Carmen Reilly