Review | The Last Great Hunt bottle brilliance with Lé Nør [The Rain]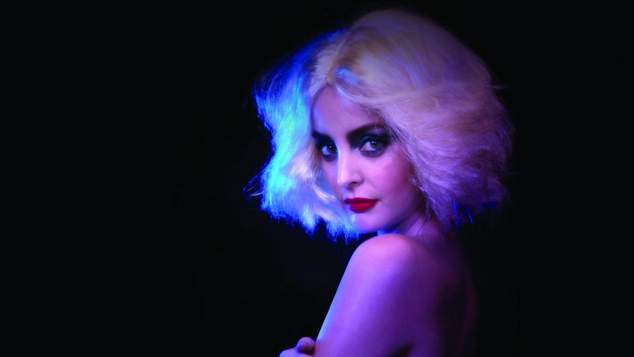 Lé Nør | PICA | til 24th Feb | ★ ★ ★ ★ ★ 
Local collective The Last Great Hunt achieve something brilliant and bewildering with their psuedo-Scandinavian cinema experiment at Perth Festival.
Le Nor [The Rain] is an ambitious multimedia project co-created and performed by Tim Watts, Adriane Daff, Arielle Gray and Chris Isaacs, with performers Gita Bezard, Jeffrey Jay Fowler and Jo Morris.
The troupe have created their own language which serves as the foundation for a live theatre performance that doubles as a feature film. The PICA performance stage is set with a large projector screen in the centre and the actors play out Le Nor around the screen where the film and surtitles are projected, filmed live by two visible cameras.
Set on the fictional island nation of Solset where water is rationed and rain seldom falls – the story tells a compelling tale of a group of misfits who share an apartment complex, and their lives become entwined in numerous ways. The looming threats of climate change brings an urgent tension to the tale, and each of the character's arcs shine in their own right as we watch residents fall in love, end relationships, long for the lost and prepare for parenthood.
Le Nor doesn't take itself too seriously either, poking a little fun at art-house tropes, exaggerating characters with dramatic make-up and hair, and delivering a hilarious montage that literally snatched a few wigs.
But the audience is not just watching a feature film, and the element of live performance elevates this piece of multi-disciplined theatre to something far greater than the sum of its parts.
As a seamless piece of cinema plays out on the screen, actors and technicians are scurrying around the stage to make sure everyone is hitting their mark at dangerously precise intervals. The Last Great Hunt team execute this flawlessly, the actors switch effortlessly between characters and speak fluently in their self-devised language.
Glimpses of the absurd juxtaposition between actors on stage and on screen are as hilarious as they are impressive to see before your eyes. Stagehands and performers bring DIY gadgets to the stage that help to create special effects which make beautiful illusions on screen, while allowing the audience to see the workings behind the lens only makes for more absorbing theatre.
Perhaps most impressive is that the concurrent performances don't divide your attention, complementing each other in an impressively nuanced work unlike anything I've seen before. A great triumph for one of Perth's most exciting creative teams, and an absolute must see at this year's Perth Festival.
Lé Nør will be at the PICA Performance Space until Sunday 24th February. Tickets and more information available from perthfestival.com.au
Leigh Andrew Hill
Image:- David Collins