Review: The Riders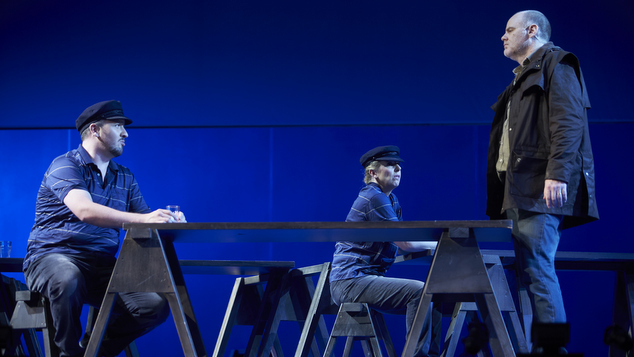 The Riders | WA Opera | His Majesty's Theatre | Until Sat 16th April |  ★ ★ ★
Unlike most opera 'The Riders' is a new work. Loosely based on a Tim Winton novel, it has an Australian identity, although all the action is based in Europe.
Unlike most opera it's in English rather than French, German or Italian. It eschews the lavish sets and big casts of most works and delivers a crisp minimalist presentation.
The story follows Scully, a man working renovating his house in Ireland while waiting for his wife Jennifer and daughter Billie to arrive from Perth. When he gets to the airport only Billie is there. Scully begins searching for his wife travelling first to Greece, then to Italy and finally Paris.
The music was composted by Iain Grandage. Grandage has to be one Australia's hardest working composers, he's collaborated with everyone from Tim Minchin to Sinead O'Connor and Ben Folds. Last year he created 'The Rabbits' with Kate Miller-Heidke. The libretto was written by Alison Croggon.
The music is dramatic and lively, filled with suspense and a genuine feeling of anticipation.Yet, the vocal element of the work is flat and monotonous. Almost as if you were listening to different works simultaneously, two trains heading out of the station in different direction.
The cast work hard, James Clayton endears himself as Scully, and the role of daughter Billie is played on alternating nights by Rosanna Radici and Mia Beatie. On opening night Radici was flawless, and her sections were some of the most engaging of the performance.
Emma Pearson plays missing wife Jennifer, while Wade Kernot, Fiona Campbell and Mathew Lester play a variety of characters and a make up a three person chorus.
The stage is filled with workman's trestles, they creatively hang from the air, the stage is filled with a blue light and the costuming is simple.
The performance were largely monochromatic. While there was a lot of emotion in the story, the delivery lacked the highs and lows that get can your heart racing.
The stylistic performance choice matched the staging, but it made for challenging viewing. In the warm surrounds of the crowded theatre, I found my attention waning.
While this production didn't excite, I do love the idea that new operatic works can be made, and new stories can benefit from the art form.
Graeme Watson, mages: James Rogers