Review | Wil Greenway: the way the city ate the stars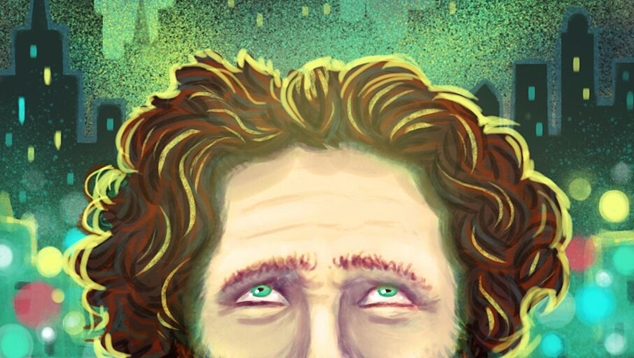 Will Greenway: the way the city ate the stars | The Blue Room | til Feb 3 | ★ ★ ★ ★ ★ 
Wil Greenway's the way the city ate the stars is a tour de force of poetic storytelling and snappy humour, all wrapped up in a loveable lullaby of larrikinism. Quite honestly, this is such a profoundly moving piece of theatre that you will be left thinking you really ought to see it again. Which you should! The first time? For the story. The second time? To lap up the eloquent imagery as Greenway paints vast vistas of Australiana anecdotes.
In this show, Greenway recounts a failed love affair with the sharp and sassy Margaret who is swept away by the square-jawed Andrew. A year later – there is a fair bit of time travel in this show because, after all, every theatre is essentially a TARDIS – and Margaret has kicked Andrew to the kerb. She's also on the verge of giving birth. Through a series of hilarious events, several souls – including our hero, Wil – come careening together in a collision of sublime intersecting storylines. Uncle Sven, Margaret, a hollow-boned green bird, Andrew and Susannah are all created from the passion so evidently ablaze on the tip of Wil's tongue.
Masterfully written, Wil Greenway's the way the city ate the stars uses all the tricks and colours in the theatrical paintbox to bloom not only on stage, but deep within your heart too. Greenway has an incredible sense for comedy, his sense of humour moving between darkness and buffoonery in equally measured parts. Even an apparent guitar string break – which I still can't figure out if it was an accident or some deeply planted metaphor… it has to be the latter, surely? – is used by Greenway to diffuse the immense tragedy of the story. Maybe it's just a lucky bluff after all? Charmingly disarming, Greenway is so aware of the world around him while on stage that honestly, I think a tsunami could have flooded the building and he'd have convinced us it was just a special effect. And we would have believed him too, such is the trust he built with the audience.
Joining Greenway on stage are singer Kathryn Langshaw and singer/guitarist Conor Greenway. The addition of this musical accompaniment adds not just a broken guitar string but a whole new texture to the work. And, of course, Greenway interacts with them with such subtlety that they augment his narrative seamlessly.   
By the end of this hour long work – which honestly only felt like 30 minutes – you might possibly experience some snot-fuelled tears. That's ok, that's part of the show. And these tears aren't from sadness. Far from it. These tears will contain a saline chemistry of awe, wonder, happiness and all those other things that move you… like time travel and understanding that the world is made of star-dust and synchronicity.
Go, buy a ticket to see this show: you WILL NOT be disappointed. If you need any more convincing, Wil Greenway's the way the city ate the stars sold out three years in a row at Edinburgh Fringe. No doubt the same will happen at Fringeworld. And with just cause too: Wil Greenway knows how to enrapture an audience with his true-blue storytelling. He even got a standing ovation at the end. Put simply, Wil Greenway is a bloody legend and not to be missed!
Wil Greenway is in the Blue Room Theatre's main space until Saturday 3rd February. Tickets and more information available from fringeworld.com.au
Scott-Patrick Mitchell
---
Support OUTinPerth
Thanks for reading OUTinPerth. We can only create LGBTIQA+ focused media with your help.
If you can help support our work, please consider assisting us through a one-off contribution to our GoFundMe campaign, or a regular contribution through our Patreon appeal.