Review | The Yonder takes us to the weird part of Fringe World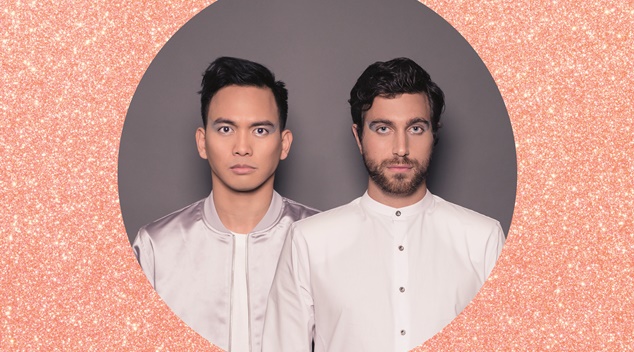 The Yonder | The Blue Room | til Feb 18th | ★ ★ ★ ★ 
Warning: we have officially landed in the weird part of Fringe. Don't panic! You will experience, for the next week at least, a sluice of shows that delve deep into the absurd. Set your thrusters to fun and let those shields down: you're in for one hell of a ride! Thank the stars above the crew of The Yonder are here to help us chart a course safely through all this absurd whackiness.
Lovechild of multi-award winning creators the handsome Ezel Doruk and equally adorable Shannan Lim, The Yonder is a queer sci-fi comedy, replete with deep space, deeper love, sex robots and space squids. Yes, take all your childhood Star Trek memories, put them into a comedy blender, set to high and garnish with gay abandon… the result will resemble something like The Yonder.
This frivolous funfest sees Lim and Doruk manning a colony space craft, en route to a new planet. But, as the only the only two crew members awake, tensions are running rampant. And here I'm talking sexual tension. What ensues is a high camp love story with a slapstick, star-struck backdrop, a narrative that pulls the audience in (literally… on the night I went Nick, from the audience, stole the show… if you happen to be the next Nick, please ask Doruk about his sex robot while you're on stage) as things go awry in the cargo hold.
I can't really give much of the plot away. To do so is to give away some of the comedic gem. Plus the plot is kinda secondary to the brilliant buffoonery. But what I can tell you is that Doruk and Lim (the latter you might recognise from 2016's hit show Asian Ghost-ery Store) both play clowns to perfection in this essentially thoroughly absurd space romp.
My only qualm was the manifestation of Mother Coconut. If, at any point, you're gonna start lip syncing for your life, then please commit 150 percent. I want you to become that drag diva big mumma Mother Coconut before my very eyes. And if you don't know the words, mouthing 'mango watermelon mango' will get you through any lip sync. Otherwise, the ridiculous addition of Mother Coconut accentuates the silliness perfectly.
The Yonder is mostly harmless. In fact, it's completely harmless (full frontal sex robot male nudity aside). And that's the charm of this show: The Yonder is good old fashioned ridiculous fun. You won't be stuck by any asteroid sized revelations, but you will get to suspend the real world in suspended animation while indulging in something wonderfully whimsical. Oh… and I just got the sight gag about the towels!
Yup, if you love Hitchhikers Guide To The Galaxy, you will love this.
N.B. The Yonder does contain an extended strobe light sequence toward to the end of the production.
The Yonder has two more shows at The Blue Room, and a final performance at The Don Russell Performing Arts Centre. Tickets and more information available from fringeworld.com.au
Scott-Patrick Mitchell
---
Support OUTinPerth
Thanks for reading OUTinPerth. We can only create LGBTIQA+ focused media with your help.
If you can help support our work, please consider assisting us through a one-off contribution to our GoFundMe campaign, or a regular contribution through our Patreon appeal.