Review | You'll just die if you miss Little Death Club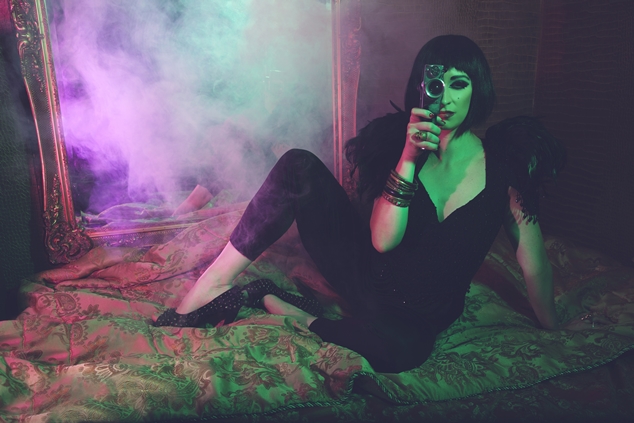 Little Death Club | The Edith | til 2nd Feb | ★ ★ ★ ★ ★  
Channelling her Joel Grey-esque vibe, Little Death Club's MC and master of everything, Ms Bernie Dieter, had control right from the first drum beat.
Before the show, Dieter and her four performers marshalled around the audience in a riotous sleaze introducing themselves in all their machinations and finery from black vinyl coats, 1940s Hollywood pool-side glam costumes, a 7ft bearded lady in a bejewelled red lion-tamer outfit munching her way through Smith's crisps and anything else she could put in her mouth.
But just who was sizing who up? This was a small teaser and prelude to what was in the end, a truly spell-binding full-throttle 60-minute ride!
Totally original and in total control, Dieter sallied through the audience her husky, dusky vocals bouncing off the 1920s Edith Spiegeltent.
Standing statuesque in a black diamante jump-suit complimented by black ostrich feathers, Dieter looked every bit the part and revelled in the moment, a hand-held mic and stand were her only props.
She challenged one hunky audience member she named 'Mr Business' and then selected others, 'Mr Stripey' (he was wearing a striped shirt) and 'Mr Hairy' (he had a thick black beard) and together they all worked up a healthy lather with Dieter straddling tall on 'Mr Business's chair. It was never tacky or debauch, it was just adult fun and a great ice breaker.
Dieter then cajoled these three brave blokes and asked them to carry her back onto the stage. The funniest moment was when 'Mr Business' struggled to get Dieter's high heels back on. It was perfect comic timing and ad-lib at its best!
Gingzilla, the 7ft ranga channelled Varla Jean Merman for his lip-sync version of Tom Jones's ballad, I who have nothing. He not only towers, but then proceeds to shower the front-row audience in both Nutella and Aunt Betty's Whipped Cream Chocolate Heaven. Hilarious!
Delicious psycho-siren Leah Shelton (Terror Australis, La Clique) delivered another impressive performance only this time stripping out of a rubber sex toy outfit to a Russian punk song. Her timing and originality a stand-out! (catch her solo show, Bitch on Heat at the Blue Room from Tuesday).
Lo Lo Brow was burlesque, but with a wicked twist. Nailing her nose, tongue and whatever other body part, even introducing a power drill as well. I thought the flossing of the condom a terrific invention and one not to be deemed safe at home. She was classic punk with a twist. Amazing!
Beau Sargent, what can one say? He's 25, a former Australian ballet dancer, a contortionist and everyone wanted to take him home to meet mother… he has a ballet dancer's body (no signs of fat or ageing… barrrrrstard!) but one hell of an act. His stage craft and acting ability in the darker ballad moments were simply mesmerising.
What that boy can do in a circus trapeze circle takes your breath away especially when the act was accompanied by the amazing Dieter singing her original song, Crack in the Mirror as Beau twirled and whirled around in the ring something that you'd usually have to go to Vegas to see in a Cirque de Soleil act.
And here it all was right before our eyes!
This show only has two performances left. So, my best advice to you now is drop everything, sell those much-loved cha-chas heels and head to the Fringe Festival box office.
Little Death Club is at The Edith Spiegeltent until Saturday 2nd February. Tickets and more info available from fringeworld.com.au 
Terry Larder
Image:- Ayesha Hussian