Review: At Last – The Etta James Story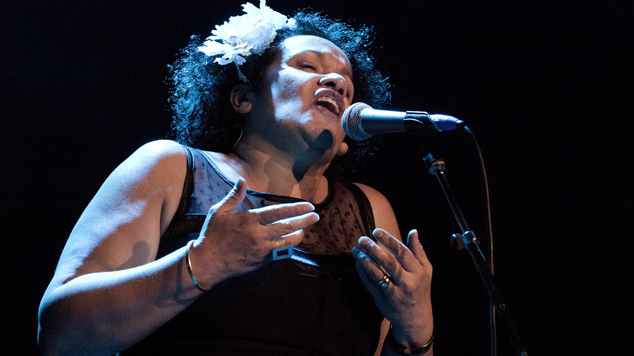 Delta, Seal, Joel and Ricky – you can stop looking now, what you're searching for is right here.
Vika Bull's performance in At Last, The Etta James Story is sexy, powerful and most importantly – a vocal triumph. On the opening night of the Perth season the leading lady gained not one, but two standing ovations for her strong renditions of the iconic American singer's catalogue.
Bull, who is best known for work alongside her sister Linda in The Black Sorrows, has no problems standing centre stage as the star of the show. Backed by the killer Essential R&B band, that includes a tight brass section, Bull works through twenty four songs associated with James' career, traversing through R&B, Blues, Funk and Ballads.
This show is simple but effective, in-between each song Bull and trumpet player Tibor Gyapjas give short insights into Etta James' life, documenting her relationships, addictions, the highpoints and the many low points in her journey. While you can't help but wish that this scripted portion of the show was a little more informal, it works well.
The first half closes with a magical performance of 'Sugar on the Floor' a lesser known song from James 1978 album 'Deep In The Night'. Written and originally recorded by Kiki Dee the song is perfectly placed in the storyline. At a time when the singer's life was in pieces following addiction, criminal charges and hospitalisation, the song's lyrics have profound meaning. In her later years James would perform an epic ten minute long version of the tune in her live shows.
Bull walks a tricky tightrope, effectively embodying the character she's portraying, sounding at times exactly like as Etta James, yet showing enough of her own personality and talent, making this not an impersonation, but an honest homage.
When it comes time for Bull to launch into James signature tunes 'I Would Rather Go Blind' and the timeless 'At Last' – the audience was on the edge of their seats hanging off every note, and Vika Bull delivered a very special knock out performance.
At Last – The Etta James Story is at The Regal Theatre in Subiaco for one week only, until May 26. Get tickets from www.ticketek.com.au 
Read our interview with Vika Bull.        
Graeme Watson