Richard Di Natale: The Greens are a serious political force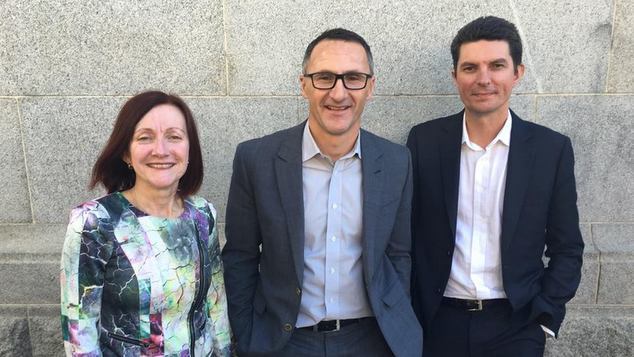 The Greens senators made themselves available to prospective voters this week by setting up pop-up offices in Forrest Place.
Leader Dr Richard Di Natale was joined by senators Rachel Siewert and Scott Ludlum, and the party's candidates for the upcoming federal election.
Shopper and office workers on their lunch break had the opportunity to sit down one-on-one with the politicians to discuss issues they thought were important.
Speaking to the media, Dr Di Natale said people were concerned about the government's treatment of asylum speakers, climate change and the creation of jobs through the renewable energy industries.
The Greens leader also responded to comments made by Labor leader Bill Shorten who has ruled out the suggestion that a close election result could result in a Greens-Labor power sharing arrangement.
Dr Di Natale said it was a great disappointment that the Labor leader would rather send the people back to a second election than work with other parties.
"The Greens can say categorically that we don't want to send Australians back to the polls if there is a close election result." Dr Di Natale said. "We're a force for stability, a force for accountable government and we will ensure that if there is a close election and a power sharing opportunity we will do everything we can to steer Australian in a more caring, compassionate, progressive, sustainable and prosperous direction."

While a power-sharing arrangement with Labor was not out of the question, Dr Di Natale said he personally couldn't see the party teaming up with the Liberals to form government.
Dr Di Natale said the Labor and Liberal parties were like the 'Coles and Woolworths' of politics and nothing brought them closer together than a little competition.
Claiming the underdog status, The Greens leader said his party was finding popularity in seats previously held by political parties on both sides of the aisle.
"We're the Leicester City of Australian politics!" Dr Di Natale said, "We are going to come at this election with a tremendous force, we're going to give them a real shake."

Fremantle in The Greens sites
The seat of Fremantle is one that The Greens leader said was a possible win for the party, confident that candidate Kate Davies had a genuine shot at taking the Labor stronghold.
Davies is a lawyer and well known campaigner against domestic violence. She founded the community organisation Tenancy WA which provides advice on tenancy matters.
Later in the day news broke that Labor's candidate would be dis-endorsed due a series of allegedly undeclared criminal convictions. Martime Union organiser Chris Brown has been dropped in favour of Fremantle Deputy Mayor Josh Wilson.
The division of Fremantle has been in Labor's hands since the 1930's and a number of high profile Labor politicians have occupied the seat.
Current member Melissa Parke was preceded by former WA Premier Carmen Lawrence who switched from state to federal politics. Previously the seat was held by John Dawkins, Kim Beazley Snr and former Prime Minister John Curtin.
OIP Staff