Robbie Williams Arrives in Australia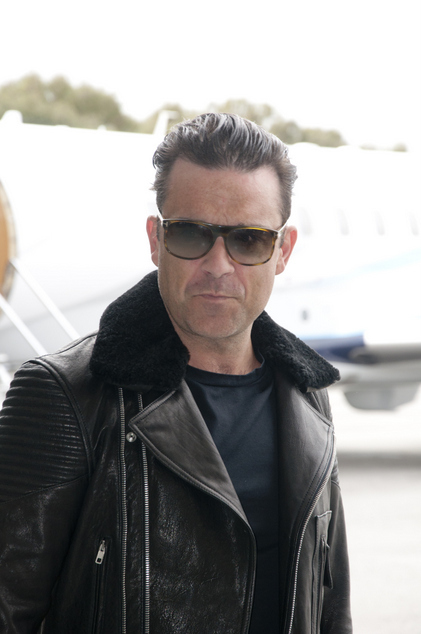 Pop Superstar Robbie Williams arrived in Perth this morning, flying in from Los Angeles on private jet. The singer's Australian tour starts in Perth on Thursday night before heading off around the country.
Williams said it had been "too long" since he was last in Australia. His last tour was eight years ago. The singer said that he had many happy memories of his last tour of Australia  joking, "I was single back then".
Williams said he was exited about the impending birth of his second child. The singer's wife actress Ayda Field is due to give birth in five weeks time. The couple's daughter Theodora Rose was born in 2012.
Williams spent some time chatting to reporters upon his arrival asking them what he should get up to while in Australia. He was excited about watching the finals of Australia Rules football, but was less enthusiastic about the proposal of swimming with our great white sharks.
"I could do that," laughed Williams, "or I could just catch on some sleep, I feel like I've been in the air since 1987."
Williams said his Swing Both Ways tour would feature a condensed versions of his hits but largely be focused on his swing material.
"It's very much a 'jazz handsy' kind of show. It's a very different show to the one I brought to Australia before, but I think it translates well. We call it the 'end of the pier' stuff in England and I hope you hold the same sort of show-bizzy ideals that I do."
Robbie Williams plays the Perth Arena on Thursday and Friday night. Before heading to Melbourne, Brisbane and Sydney. In the middle of the tour Williams will head across to Singapore for a show as well.