Robbie Williams charms with his hits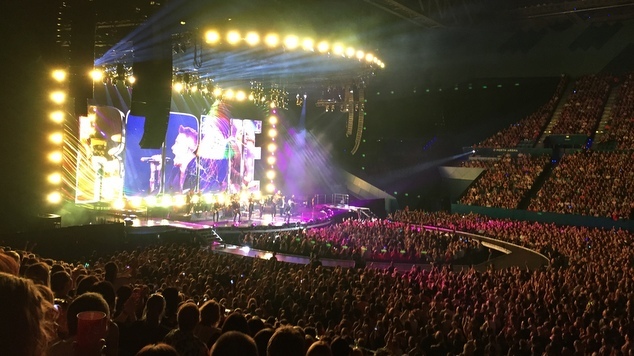 Robbie Williams | Let Me Entertain You |Perth Arena |★ ★ ★ ★ ★
Robbie Williams is an entertainer through and through, and he didn't disappoint Perth audiences with his two sold out shows that filled the Perth Arena.
Williams capitalised on his cheeky reputation by first appearing as a giant silhouette, larger than life, walking across the stage's giant video screen to the sounds of 'O Fortuna'.
As the band took to the stage and began to play the opening bars of 'Let Me Entertain You' Williams suddenly appeared in a flash of light, propelled through a trapdoor in the stage straight to his position behind the microphone.
"My name is Robbie fucking Williams!" he proclaimed loudly, 'And for the next two hours, your ass is mine!"
It's just over a year since Williams was last in Perth, back in September 2014 he presented his 'Swinging When Your Winning' tour what focused on his love over old swing tunes with just a smattering of his big pop hits. This time the tables were turned as he presented all his big hits with just a tiny bit of the old show tunes making the cut.
Launching into 'Let Me Entertain You' Williams had the audience on their feet from the very first tune. He followed his big opening up with 'Lazy Days', a lesser known song from his debut album, but the big hits soon returned as he sang 'Rock DJ' venturing out onto the stage's horse-shoe catwalk with his four backing singers in tow.
Everyone's arms were swinging as back and forth as he encouraged the crowd to sing a long to 'Monsoon' and support band Lawson joined him onstage to sing 'The Road to Mandalay' and the Take That hit 'Back for Good'.
Williams regularly joked with the audience, asking who was over thirty, and who was under thirty? Then he explained who he was to the under 30's describing himself as someone who was in Take That, sang 'Back to Good' left the band, got fat, did drugs, went to rehab and then became a star.
A new song was performed, William noted that he had recorded a song for his daughter Theodora Rose, and said it was only fair that his son Charleston Valentine also had  a tune. The crowd were probably expecting a heartfelt ballad about fatherhood, but Williams had everyone laughing, if not a little shocked, with his tune 'Bad Motherfucker'.
Williams said his song 'Better Man' had really only been a big hit here in Australia, and he brought his Dad out on stage to sing the song as a duet.
A young girl called Lauren was plucked out the audience and invited up on stage to join Williams for 'Hot Fudge'. The pair appearing on an upright bed with their bodies replaced by a video projection of a couple sexily undressing and grinding away to the tune. Lauren as a good choice of partner – she knew all the words.
A cover of Queen's 'We Will Rock You' segued into Joan Jett and the Blackhearts' 'I Love Rock and Roll'. A surprise cover of Lorde's song 'Royals' was incorporated into 'Bodies'.
The sing-a-long big hits kept coming one after the other with 'Supreme', 'Come Undone', 'Millennium' and Williams three female backing singers did a fine job taking on Kylie Minogue's half of the duet 'Kids'.
The encore saw Williams perform Queen's 'Bohemian Rhapsody', 'She's the One' and his signature tune 'Angels' before signing off with a sing a long of 'My Way'. By the end of the show Williams had every single audience member on their feet.
Before leaving the stage Williams returned to 'Angels' sending the crowd off into a sing a log of the tune that continued long after he'd left the stage.
Williams is one of the great entertainer performing today, the range of hits he's had both as a member of Take That, and as a solo artist is substantial and there were many not included in this sold two hour show. Robbie Williams is welcome back anytime, his show is a rollicking good time.
Graeme Watson