Crazy P's Ron Basejam is playing at Coast on Friday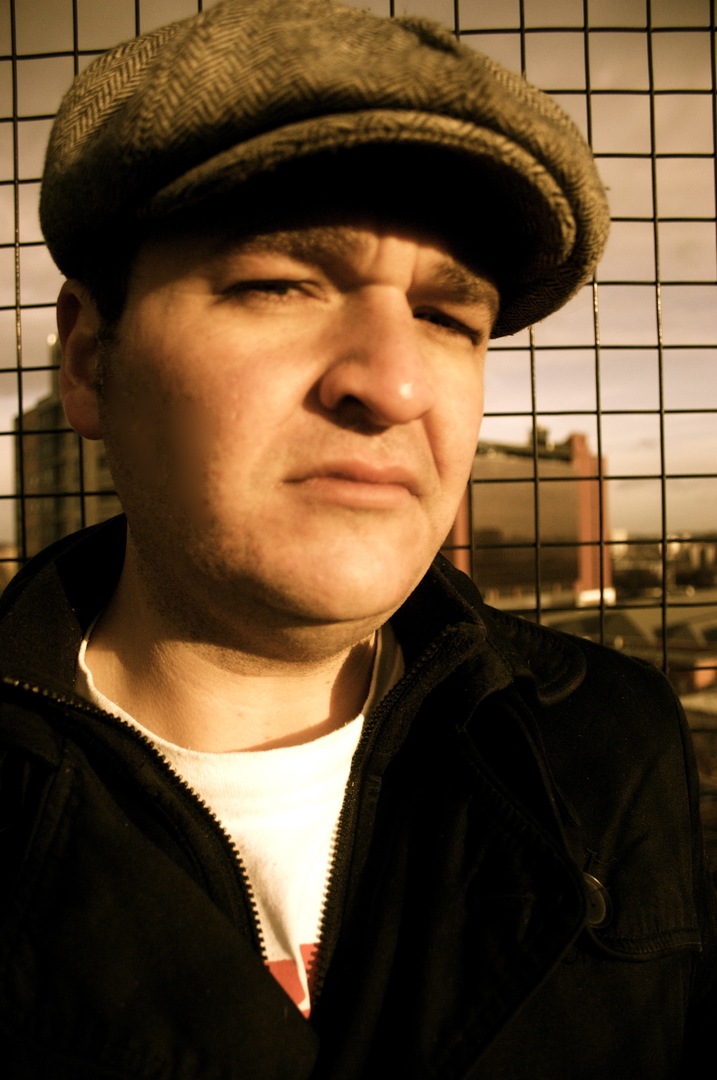 Crazy P  (formerly known as Crazy Penis) are well known and loved for their work as one of the biggest disco/funk bands to emerge from the last 20 years.
Best known for the smooth funky track There's a Better Place, which sampled Willy Wonka and the Chocolate Factory, they have been relentless in releasing new material, much to the delight of fans.
Co-founder of the band, Jim Baron, is now also producing original tunes and remixes under the name of "Ron Basejam". He is a very busy man, but managed to take the time to chat to Roscoe Holyoake ahead of his Australian tour.
How was you Christmas?
Yeah, it was entertaining. Haha!
I've got two young children and my Mum and Dad over as well, who are like two young children, so it was a house full of nutters, but yeah it was quite entertaining. It went off without a hitch I think it's fair to say.
Well that's good, I'm at a Christmas party at the moment, actually I'm interviewing from my car! I've been hearing some pretty crazy family stories here. You can't help but be related right?
Hahaha, yeah you can't choose your family.
So I've just been telling people at the party that I'm interviewing Ron Basejam, who co-founded Crazy Penis (I still say "Penis" because that's the kind of guy I am) and it still gets such a great reaction from people who don't know the name.  Why did you guys come up with Crazy Penis as name?

Well, we were called 'Loco Pinga' originally which is like a colloquial Spanish Mexican translation of 'Crazy Penis'. Then the guys from the record label – Paper, the first label we were signed to, found out what the translation was and urged us to go with the English version on the basis that they had another artist called 'Dirty Jesus'. Elliot Eastwick was like "Just imagine it – Dirty Jesus Vs. Crazy Penis" and that's how he sold it to us.
We were so wet behind the ears, and so flattered that we were asked to join the label. We were like, "Oh yeah cool, whatever you want" haha, basically without thinking it through.
It was very much a hobby at that stage possibly thinking we would have a couple of releases and then get "proper" jobs, which never really happened.
It always gets a reaction. It's quite a 'Marmite' reaction. I think you either love it or you hate it, there's not much in the middle.
Do you think it did you any favours?
Ah, probably not, but I think over time you get to see how swear words works in music.
I think, generally, if you got a song with 'penis' in it, you're alright; if you got a song with swearing in it, you're alright; if you got a band name with anything risky in it, it's probably a bad move I reckon.
I think like you get complacent in venues that are council run, and things like that or getting stopped at San Francisco airport for 2 hours because they've found out the name of your band and they stick you in a room and say, "Crazy Penis? Right. Okay, well we need to find out more about your band." .. and that sort of thing, which are small things I guess but they mount up.
Crazy P formed around 20-21 years ago… how are you going?
Really good. We've had a really great 12-18 months. A bit of a resurgence you might say, in terms of gigs. The last album that came out on K7 did really well. It's ticking over really nicely.
When I get back from Australia, we've hired out this barn in North Wales where we are going to start recording the new record. So yeah it's hard to believe after all this time it's still fun and…
Sorry, did you just say you were going to record the album in a barn?
Well, we are going to record some of it there. Most of the recording will happen at our studio probably. But we just wanted to get out of the studio. We thought about hiring a big fancy smancy recording studio for it, but then a friend of our who runs a festival called "Got Wood"…
Perfect for 'Crazy Penis'!
Haha yeah well exactly… he owns this amazing site. It's in the middle of nowhere, it's right by the water. It's got this amazing forest which is built into it. He has accommodation there for everybody. They run like yoga retreats and stuff there in the summer time, but not much goes on there in the winter. He kindly offered it to us at a cut down price.
We just thought it would be good to get another view out of the window basically.
Also we've all got lives now. When we kicked off, music was everything you know? I think now, as time goes on, it's good to put time aside to do these things, because if you don't, life invariably gets in the way.
It's not exact science making music. It can either go great, or it can go terribly, you just never know. I think taking a period of time out and going somewhere else enables you to really focus on what you're doing.
I guess that would be the secret to your longevity as a band. You guys must experience some difficulties working together as well right?
Of course, it's like any relationship, but we all came from the same place in terms of our personality and musical development, so there's no big ego there. It's all very civilized actually, I'm quite pleased to say!
There have been times we've been stuck trying to come to an agreement, but it's generally very civilized and debated in a straight forward fashion until we can out argue each the person who's disagreeing.
Me and Danielle (singer) are probably the most lively personalities in the band, and we've had our moments where those personalities have clashed. It's the same in any relationship, they key to it is put it behind you really quickly and move on. We found we could do that years ago, and it doesn't take long for us to forget about it.
As Ron Basejam, the stuff you make is quite varied, from slow jams to late night disco. Do you set any rules for yourself when you're making music?
No, there's never any rules. I think once you start imposing them, you're doing it for the wrong reasons.
I saw there was a guy, that um, I digress slightly, but do you know Mike Monday?
Yep
Well he's doing this thing online at the moment that goes sort of like this, "Crib sheet to getting your tune finished", where he's done a 10 step guide of rules for you to follow in order for you to finish your music.
It just got me thinking about that side of things, and about people that you view as real artists or something.
To say bands like Joy Division – f***ing hell. Would Joy Division have ever had a crib sheet of 10 rules? No they were stuck in a warehouse in post-industrial Manchester, it was pissing down with rain. What they were doing was just an extension of how they felt, and I think that's what we always do. I don't think we ever place rules on ourselves.
What do you see for the future of Crazy P and Ron Basejam?
Ron is a nice little outlet and I had a chance to do quite a lot of work at the beginning of the year. So I've just had an EP out on Futureboogie, and got another that's just been signed that will come out at some point early next year.
Remixes wise, there's been a steady flow. I've just done a Barbara Tucker thing for Compost.
Ron's great. I really enjoy it because it really is no holds-barred, and I don't have to prove anything to anyone and it's really great fun.
Crazy P wise, we finished an EP just before Christmas, which we're going to try and get out pretty quick, which is like more up tempo stuff, more the stuff we've been doing in the sound system. Then around February, like I said, we are going to knuckle down and try to make in roads into the next long player.
There's no immediate rush on that though. I think the EP will do really well, it's a really strong EP. Then we'll see how we get on in balmy Wales! Hahaha
Ron Basejam is playing at Coast in Fremantle on Friday 6th January and The Port in Sydney on Saturday 14th January.
Roscoe Holyoake.