Russia: Gay Rights Under Attack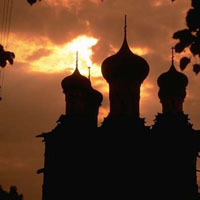 The violent attacks on peaceful gay pride demonstrators in Moscow in late May show the rollback of respect for human rights in Russia, Human Rights Watch and the European Region of the International Lesbian and Gay Association (ILGA-Europe) said in a briefing paper released this week.
Instead of protecting human rights and gay advocates who tried to assemble, Moscow police colluded with skinheads to break up the Gay Pride demonstration. The two organizations documented the violence and urged legal protections for both freedom of assembly for lesbian, gay, bisexual, and transgender (LGBT) people.
'When LGBT people tried to assemble on the Moscow streets, some twenty ended up in jail cells,' said Scott Long, director of the Lesbian, Gay, Bisexual, and Transgender Rights Program at Human Rights Watch, who witnessed the events in Moscow first-hand. 'The violence and the arrests reveal how comprehensive the threats to basic freedoms are in Russia today.'
On May 27, several dozen Russian lesbian, gay, bisexual, and transgender people, accompanied by Russian and foreign supporters, tried to hold a peaceful demonstration outside Moscow's City Hall. Police immediately arrested several organizers of Moscow's lesbian and gay pride festival, including chief organizer Nikolay Alexeyev, as they tried to deliver a petition to Moscow Mayor Yuri Luzhkov.
Dozens of anti-gay protesters, including skinheads, nationalists, and Orthodox adherents, attacked peaceful participants. They beat and kicked lesbians and gays and their supporters with impunity while riot police stood by. Informers among the anti-gay protesters appeared to point out particular LGBT people and their allies for police to arrest.
'Police clearly sided with the attackers instead of the victims,' said Maxim Anmeghichean, programmes director of ILGA-Europe, who also directly witnessed the events. 'Instead of separating the two sides, the police pushed them together to aggravate the attacks, and then watched while demonstrators were beaten.'
According to figures released later by Moscow officials, 18 Russian demonstrators for LGBT rights were arrested, along with twelve skinheads. Police also detained Volker Beck, a member of the German Bundestag, and Marco Cappatto, a member of the European Parliament, along with a European Parliament staffer.
Most of those arrested were released that night. Three co-organizers of Moscow Pride—Nikolay Alexeyev, Nikolay Khramov, and Sergey Konstantinov—were charged with disobeying police orders as well as with walking on the street (as opposed to the sidewalk).
At hearings for Alexeyev and Khramov on June 8 and 9, the judge refused to admit defense evidence, and called previous testimony on the defendants' behalf by Volker Beck and Marco Cappatto 'frivolous.' Both Khramov and Alexeyev were convicted and given 1000 ruble (about US$40) fines. Konstaninov's hearing will take place on June 22.
Three times as many people were arrested this year compared with last year's attempt to hold Gay Pride in Moscow. On both occasions, the city administration denied permits for a proposed Pride parade. In February 2007, Mayor Luzhkov declared, 'Last year, Moscow came under unprecedented pressure to sanction the gay parade, which can be described in no other way than as Satanic. We did not let the parade take place then, and we are not going to allow it in the future.'
Human Rights Watch and ILGA-Europe also documented increasing legal restrictions on LGBT people's freedoms over the past year including attempts to criminalize so-called 'propaganda for homosexuality.'
In recent months, peaceful demonstrations by Another Russia, a political opposition movement, have been regularly broken up by riot police, and organizers have been harassed and detained.
To see Human Rights Watch's photo essay, click here.
—
This report came from Human Rights Watch.