Save Safe Schools supporters speak out at Perth rally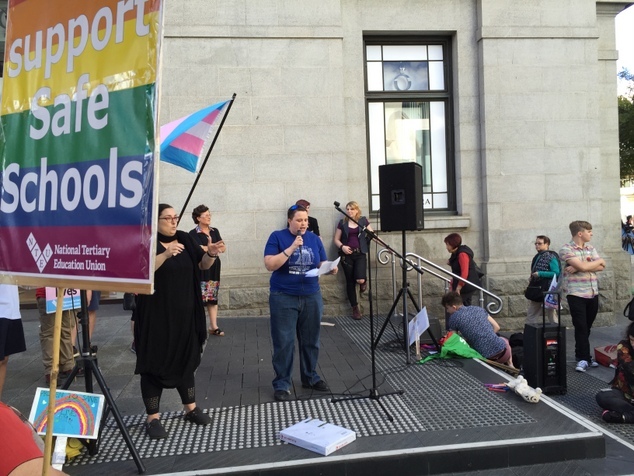 Parents, teachers and students joined politicians today to call for the reinstatement of the Safe Schools program.
The rally in Perth's Murray Street mall attracted hundreds of supporters, while a counter protest from the Reclaim Australia movement played out nearby. Police stood between the two groups keeping the peace.
Joey Cookman McAuley was the first speaker to address the rally. The mother of two young children spoke about her own experiences of being bullied during her education. Cookman McAuley said name calling and bullying could leave scars that were so powerful they changed people forever.
"There was no Safe Schools program when I was a teen and how I wish there had been." Cookman McAuley said. "Maybe I wouldn't have spent so many years feeling like an outcast if I had had a place where I could have understood all the things going on inside my head and my heart. Maybe I would have been able to stop having to hide who I was a lot sooner than I did."
The LGBTIQ rights advocate said it was time for conservative politicians to stop labeling people of diverse sexuality as deviants.
"Difference is not wrong. It's just different." Cookman McAuley said.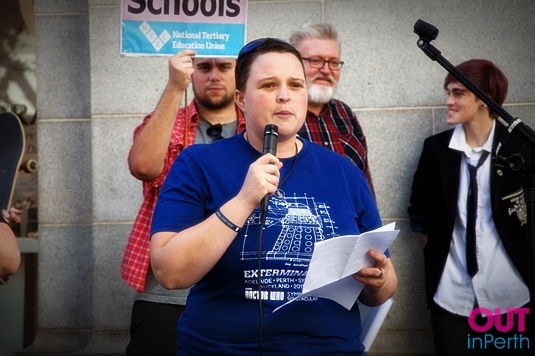 Scott Ludlam: The Safe Schools program should never have been politicised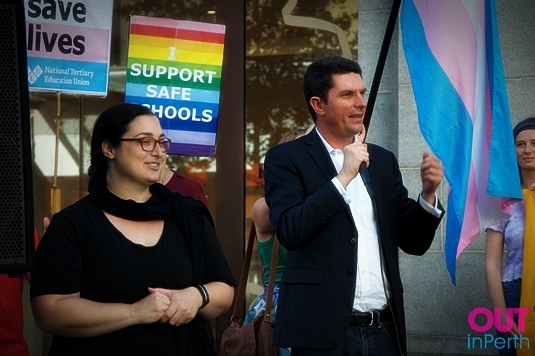 The Greens' senator Scott Ludlam spoke to the crowd describing the counter rally from Reclaim Australia as "six angry pointless men".
Senator Ludlam said it was disappointing that the anti-bullying program had become such a political issue.
"It is something of a disaster that something as simple as Safe Schools has been politicised. I feel embarrassed as one of your representatives, as a senator, to have be turning out at an event like this." Senator Ludlam said.
"This is about safety. This is about respect. Lets keep it simple."
Watch Scott Ludlam's speech below.
Students, Teachers and Parents voice support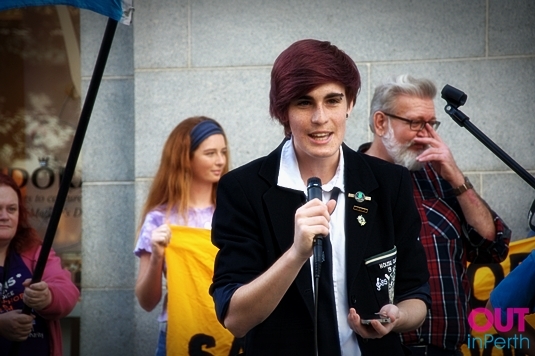 Students, teachers and parents spoke in favour of the program.
Kai Schweizer created a Facebook page that allows young people the opportunity to share why the Safe Schools Coalition program has had a positive effect on their life and education.
"I want to remind everyone here especially all the young people… there is nothing wrong with you. To all the parents of queer kids, there is nothing wrong with your children. We should all be free to go to school to get an education without the constant fear of harassment." Schweizer said.
Schweizer said there were still many kids in school who didn't get a chance to talk about their sexuality out of fear.
Watch Kai Schweizer's speech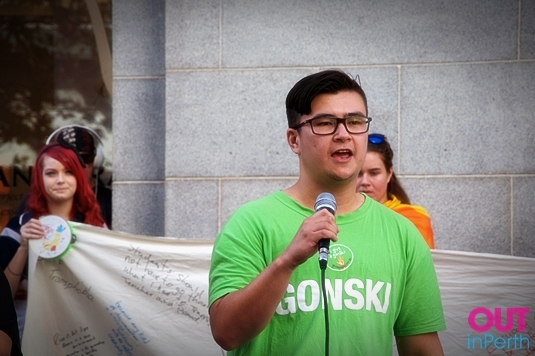 School teacher Oskar Lim spoke on behalf of Sam Schofield from the State School Teachers Union of WA.
"The State School Teacher's Union of WA (SSTUWA) is committed to protecting the industrial and professional and civil rights of its members and the rights of all Lesbian, Gay, Bisexual, Transgender and Intersex (LGBTIQ) people throughout the world. Every person has the right to identify or not identify themselves in a chosen way regarding their own sex, sexuality and gender." Lim said.
"The SSTUWA believes that all children have the right to high quality public education, and the opportunity to maximise their learning potential regardless of their gender diversity, intersex status and/or sexual orientation.
"The SSTUWA supports Safe Schools Coalition WA which complements the work undertaken through the Equal Opportunity Commission of WA in producing the 2014 Guidelines for Supporting Sexual and Gender Diversity in Schools.
The school teachers union said homophobia and transphobia could have significant effects on an individuals education.
"Homophobic and transphobic discrimination can have significant negative impacts on a student's academic participation and performance and can result in social exclusion and isolation which in turn can limit future opportunities.
"It is important that our schools are free from homophobia and transphobia and are safe, affirming environments for all students, staff and families.
The rally included a wide range of speakers including a representative from PFLAG who shared her experiences as a mother, grandmother and as a teacher with over 50 years of experience. Transgender student JJ spoke about her own experiences in the education system.
OIP Staff
Tags: AusPol, bullying, education, Joey Cookman McCauley, Kai Schweizer, LGBT BUllying, Oskar Lim, Parents, PFLAG, Save Safe Schools, Scott Ludlum, teachers, The Greens