SBS boss Michael Ebeid stands down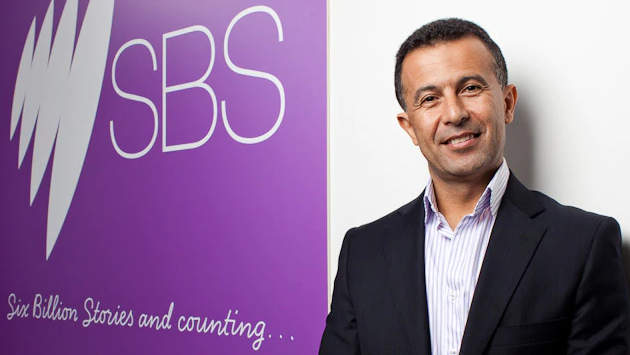 SBS boss Michael Ebeid has announced he's stepping down for his role leading Australia's multi-cultural focused broadcaster. Ebeid has been SBS's Managing Director for seven years.
Ebeid gathered staff and told them that the decision to move on had been one of the most difficult of his career.
"My decision to step down has been one of the most difficult decisions I've made," he said.
"I absolutely love this place and what it stands for… SBS is very much a family."
In a statement provided to the media Ebeid expanded on his decision to leave and reflect on SBS's achievements under his rein.
"My decision to step down has been one of the most difficult decisions I've made. Serving as the SBS Managing Director has been a real honour and privilege and I depart feeling confident that this is the right time for a new Managing Director to take the organisation forward.
"SBS is the strongest it has been in over 40 years. We are more relevant than ever and we are ready for the future. Considering the struggle of societies globally to integrate diverse communities harmoniously, SBS today performs a critical role in the Australian community. We are the media organisation audiences can come to, on their preferred platform or device, for distinctive programs and different perspectives that create a better shared understanding within our diverse, multicultural society.
"We have been through a lot of change over the past seven years and our successes have only been achievable with the support of the SBS Board of Directors, our SBS Executive team and of course, our dedicated SBS employees. The SBS team is the most passionate and committed that I've worked with in my 30 year career. Our people come to work every day motivated to make an impact and I've learned a lot from them during my tenure.
"Importantly, I depart the organisation knowing that we have a very strong and experienced leadership team to help guide SBS forward. The organisation is honoured and humbled that SBS is valued by the communities we were created to serve four decades ago, and whom are at the heart of our organisation and the decisions we make today."
Ebeid will pass on the reins to his replacement in October.
Communications Minister Mitch Fifield praised Ebeid's leadership of the broadcaster.
"Mr Ebeid has been a strong leader with a clear vision for SBS and the role it plays in supporting social cohesion and fostering a greater understanding of difference," he said.
Ebeid is one of the most high profile corporate leaders who has publicly acknowledge that they are same-sex attracted. During the marriage equality debate he faced an onslaught of criticism for publicly calling for the laws to be changed.
He had a memorable exchange with government senator Eric Abetz during an estimates hearing last year over his support for marriage equality.
The new Managing Director of SBS will take the helm of the organisation at a time when there is growing pressure from conservative politicians to sell off both the SBS and the ABC, combine the two organisations for cost savings, or reduce the organisation's funding.
OIP Staff
---