SBS looks back at the postal survey with 'Australia Says Yes!'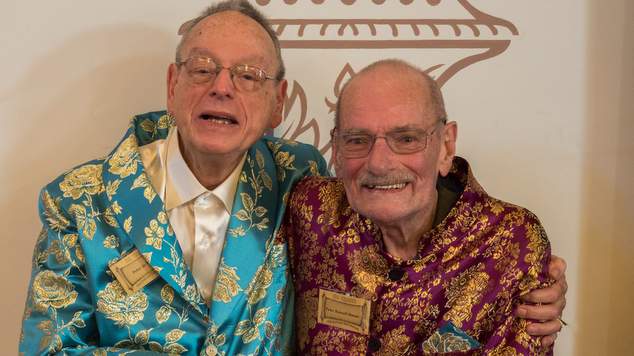 It's one year since Australia said YES to marriage equality. The results of the postal survey were delivered on 15th of November bringing to an end Australia's long crawl to recognising equality.
Standing on the stage in Sydney when the results were read out were many activists who had campaigned for changed, some of them had been fighting for LGBTI rights for decades.
Throughout the campaign SBS were following many of these people including Dr Kerryn Phelps, Magda Szubanski, Alex Greenwich and Peter de Waal and his partner Peter 'Bon' Bonsall. Now what went on behind the scenes will be revealed in an emotionally charged documentary from SBS.
"That was the most bittersweet day in almost 50 years of activism." de Waal says of the day when marriage equality was finally passed by the parliament.
During the campaign the couple had written to Prime Minister Malcolm Turnbull pleading with him to pass marriage equality through parliament rather than via a protracted pubic vote. With Bon receiving a terminal cancer diagnosis the couple knew time was not on their side. Sadly Bon passed away before the results were known, and the PM never answered their letter.
"Most of the things that Bon and I worked on, and Camp Inc, gave you some sort of personal benefit, whether it was changing the law, or in this case marriage. We always had the benefit of the effort for that change. While it's great for our community, it wasn't on a personal level."
Peter de Waal is a pioneer of the fight for recognition. In 1972 he and partner Peter 'Bon' Bonsall appeared on an ABC television program, it was the first time a same sex couple were seen kissing on national television. The couple were members of Camp Inc one of the country's first gay rights organisations.
In the footage from the Chequerboard program in 1972 the couple refer to their relationship as being "like a marriage" but de Waal notes that it was a proposition put forward by the interviewer, back then the idea of same-sex couples being allowed to marry was a long way off.
"It was the interviewer that who suggested the idea that it was  like a marriage, marriage for Bon and I didn't really start until to about five years ago. It was Bon who wanted to get married and I guess I resisted to some extent. I said to him 'We've lived together for 45 years, why do we need it?'
But as I time went on I realised there some benefits, that it you were a married couple, and after Bon passed away I think dealing with his estate would have been easier if we had been married." de Waal told OUTinPerth when he chatted on the phone.
De Waal does however see positives from the marriage equality campaign, he says the results give the next generation of LGBTI rights activists a map of where they need to focus.
"Although the marriage equality survey was a horrible period, there was no need to have it, it showed that there are four federal electorates in Western Sydney where the LGBTI community's population live in social conditions like we did forty years ago.
"We now have pockets of disparity in Sydney..I'm certainly hoping that the more privileged, if I can use that word, people in our community can reach out and support those people." de Waal said.
The longstanding activist said he was delighted with what Australia Says Yes! captured.
"It's very moving in parts and very cathartic, it's a wonderful part of our history that it captures, and I'm delighted that the director Kirk Marcolina has gone back to almost the beginning of the gay rights movement in Australia."
The journey to marriage equality follows many battles the couple fought together for LGBTI rights.
"Marriage wasn't an issue in the early days because we had things like decriminalisation to tackle, which was of much more important to our lives, and the issue of the psychiatric manual where homosexuality was described as a psychiatric disorder."
"It's a natural continuation of the struggle for equality within the community that marriage equality then became a big issue." de Waal said.
Back in the 1970's de Waal and Bonsall were key members of Camp Inc. de Waal he says it probably hard for younger members of the LGBTI community to understand what it was like in the fledgling gay rights organisation in the early 1970s.
"There's a wonderful song by the gay liberation choir, I have their record from 1983, and there's a song that has the lyrics which says 'Thank you God for liberation, because the closet was my darkest hour'. Many people back then were in the closet, to protect themselves from not losing their jobs, and their relationships with their family." de Waal said of the challenge of fighting for gay rights when being gay was illegal.
While the gay rights movement still has issues to tackle, de Waal says there is a clear difference today from decades gone by, and that's the majority of the population are now on our side.
"We have the general communities support, and that is making it easier. People say we've become a bit mainstream, but I'm okay with that, because basically I just want to be an ordinary person who has the same rights, so I'm very happy with being the mainstream." de Waal said.
For a heartbreaking, insightful and joyous take on the events of November 2017, don't miss Australia Says Yes! Screening on SBS 7:30pm Thursday 15 November.
Graeme Watson, images: Peter Bonsall-Boone and Peter de Waal's 50th Anniversary Party at Glebe Town Hall on 29th October 2016 photographed by Geoff Friend. 
---