Second petition against Kellie-Jay Keen receives legal threats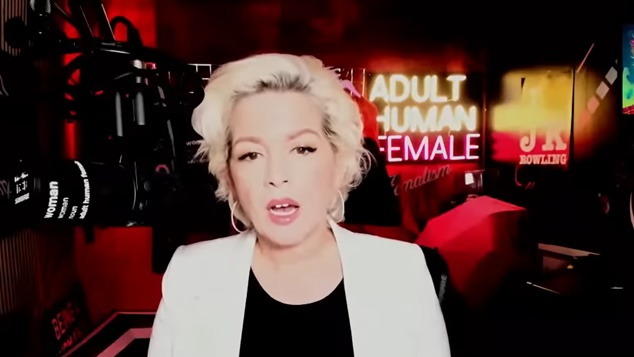 A second petition calling for controversial campaigner Kellie-Jay Keen to be denied a visa to visit Australia has been hit with legal threats.
Warning: This report contains commentary about people who are transgender that some readers may find offensive.
The petition hosted on Change.org has been told it must prove all claims about Keen or it will be removed from the platform. A previous petition attracted over 11,000 signatures before it was removed after similar legal threats.
Keen, who appears online using the moniker Posie Parker, is a self-described women's rights campaigner who argues that transgender people should not be allowed in single-sex spaces, and that transgender youth should not be able to access medical treatments.
Her Let Women Speak events see her setting up speaker's corner style gatherings where people come to voice their concerns which are exclusively about people who are transgender. Her events in the USA, England and Scotland have seen protesters voice their opposition to her views.
The first petition voicing opposition to her presence in Australia was launched by Melbourne based LGBTIQA+ rights activist Chris Johnson and it had attracted over 11,167 signatories before it was pulled.
A spokesperson for Change.org told OUTinPerth, "Change.org received a legal claim on this petition and in order to comply with Australia's defamation law, we were forced to remove it from the platform."
Now a second petition is facing similar threats, with the creator of the petition expressing frustration that Change.org give no information is given regarding what element of the petition has been deemed defamatory.
Keen's Australian tour will begin on Sydney, a week after the end of the World Pride celebrations. Keen posted to Twitter recently, saying "after the rainbows we'll bring the storm.".  After appearing in Sydney on 11th March, she will visit Brisbane the following day and will then head west to Perth for an appearance on 14th March at Parliament House.
She'll then travel to Adelaide for an appearance on 16th March, and then will follow up with an appearance in Melbourne on 18th of March, Hobart on 21st March, and finally a Canberra appearance on 23rd March. Keen will then head to New Zealand for appearance in Auckland and Christchurch.
Local transgender advocacy and support group TransFolk of WA previously responded to the tour announcement.
"TransFolk of WA supports the broad scientific support and the lived experiences of trans and gender diverse individuals.
"Not everyone may agree with that, but the difference is that TransFolk of WA is committed to and works towards ensuring our communities are valued and supported.
"We hope that individuals who choose to spread violent rhetoric will focus on assisting their own communities instead of damaging others." a spokesperson for the organisation told OUTinPerth.
"In a time where trans and gender-diverse West Australians should be celebrating recent community wins on the abolishment of the Gender Reassignment Board and updates to the Equal Opportunity Act, events like this continue to cause real harm to our already vulnerable community.
"Trans women are women, and we will continue to advocate for our community to ensure their safety and acceptance." TransFolk of WA's spokesperson said.

Kellie-Jay Keen launches feature length film on YouTube
Ahead of her Australian tour Keen has launched a feature length video to YouTube documenting her recent tour of America.
In the video she campaigns outside a San Francisco drag show for youth.
"Adult sexuality mixing with kids is one the main components of this absolute wacko-crazy movement called transgenderism." Keen says describing it as a "grooming" session. Elsewhere in the film she describes promotion of transgender rights as "fascism".
Throughout the video people speak out against allowing transgender people to undergo gender reassignment surgery, including people who have previously transitioned and then regretted their decision.
As Keen's tour around the USA continues there is a growing number of protests at her appearances. At an event in Tacoma, Washington there are outbreaks of violence and vocal opposition from the local community, leading to protesters against Keen being arrested for assault.
When the tour arrives in Austin Texas her security is increased, and she shares her excitement that people are carrying guns. "It's very exciting, I've never seen a real gun." she comments.
By the time the tour arrives in Florida, Kellie-Jay Keen is travelling in an armoured car, but only a tidy crowd arrives for the event. Keen brushes it off, saying supporters have stayed away out of fear from protesters. No protesters are shown though.
In Washinton DC protestors try to drown Keen's event out with sirens and loudhailers and soon police intervene. In Philadelphia barricades separated the protestors and Keen's supporters, and each group's loudspeakers battled, competing for attention.
"You need to go back to your side of the fucking bathrooms" Keen shouts at those opposing her views, before describing those who support transgender people as "groomers".
The self-made documentary ends with Keen's rally in New York which was swamped with protesters and police refused to escort her through the crowd saying it would be too dangerous.
The video ends with the message "Coming to a town near you – soon."
British report highlights Keen as a factor in growing far right 

extremism
An annual 'State of Hate' report from Hope Against Hate has just been released and notes far right extremism is growing in the United Kingdom, and the report highlights the campaigns of Kellie-Jay Keen.
The report says Keen is "a leading voice in the anti-trans movement in the UK, and has been praised by the far right. She has increasingly found support from and an overlap in views with the far right, which has also increasingly focused on trans people."
A speaker who quoted Nazi leader Adolf Hitler at a recent event held by Keen is also highlighted.
The report outlines that reflecting trends in the US, there has also been "a noticeable uptick of anti-LGBT+, and in particular anti-trans, prejudice among the conspiratorial milieu."
"The so-called "trans agenda" is perceived as a means for brainwashing populations and encouraging "unnatural" treatments, but also for the "grooming" of children, echoing persistent homophobic and transphobic tropes.
"In the UK, longstanding conspiracy theories revolve around the alleged mass abuse of children at the hands of a secret, elite Satanic cabal, tropes that have been revitalised via the spread of QAnon. Such notions bleed into far-right conspiracy theories alleging a plot to corrupt society through progressive causes, in part by "sexualising" children and supposedly normalising paedophilia.
"This shift was most visible in the vitriolic campaign against Drag Queen Story Hour. This campaign has been a major point of focus for UK conspiracy." the report says.

Greens MP Stephen Bates calls for Immigration Minister Andrew Giles to take action
Queensland MP Stephen Bates has publicly called on Immigration Minister Andrew Giles to revoke the visa granted to Kellie-Jay Keen.
In his letter sent to the immigration minister in January the Member for Brisbane says that Keen's presence in Australia will constitute a significant risk to transgender and gender diverse people. Giles says he has been motivated to take action after constituents raised concern.
Bates said that Keen had a long history of "promoting or excusing hate and violence towards trans and other marginalised communities."
The member for Brisbane listed a litany of concerns about Kellie-Jay Keen included alleged violent incidents at her events, her alleged links to far-right groups known for racist and anti-Semitic statements and her alleged harassment of people who are transgender.
Stephen Bates said he believed the immigration minister should revoke Keen's visa because her presence in Australia could lead to the harassment and intimidation of people who are transgender, increase vilification of transgender Australians and increase discord within Australian society.
Immigration Minister Andrew Giles has not responded to repeated inquiries from the media.
OIP Staff
---
Do you need some support?
If you are struggling with anxiety or depression, support and counselling are available from:
QLife: 1800 184 527 / qlife.org.au (Webchat 3pm – midnight)
QLife are a counselling and referral service for LGBTQIA+ people.
DISCHARGED: [email protected] / discharged.org.au
Discharged is a trans-led support service with peer support groups for trans and gender diverse folks.
Lifeline: 13 11 14 / lifeline.org.au
Beyondblue: 1300 22 4636 / www.beyondblue.org.au
---

You can support our work by subscribing to our Patreon
or contributing to our GoFundMe campaign.