Shocking homophobic note left for Brisbane couple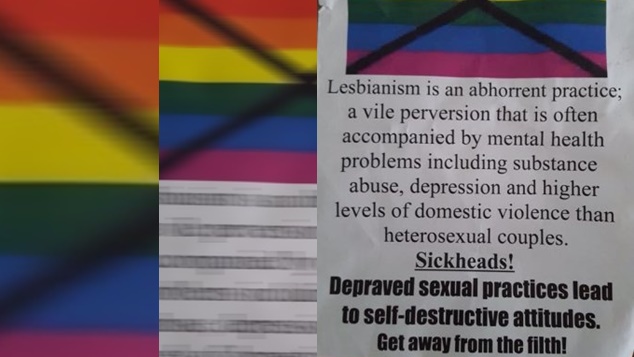 Queensland police are investigating an incident where a Brisbane couple were left a shocking homophobic note in their letterbox and had their car's tyre slashed.
The ABC has reported that the lesbian couple discovered the note in their letterbox last week, at the same time they realised their car had also been vandalised.
"Lesbianism is an abhorrent practice; a vile perversion that is often accompanied by mental health problems including substance abuse, depression and higher levels of domestic violence than heterosexual couples." the note read.
Alongside a crossed out image of a Pride flag it went on to say, "Sickheads! Depraved sexual practices lead to self-destructive attitudes. Get away from the filth!"
The couple who have lived at the address on the Redcliffe Peninsula for ten months also have two children living with them.
A spokesman for Queensland Police has confirmed the matter is being investigated and urged anyone else who has encountered similar actions to contact police.
Shelly Argent, the National Spokesperson for the Parents and Friends of Lesbians and Gays (PFLAG) said there had been several reports of LGBTIQ+ people being targeted in recent times.
"Something similar happened in Mackay recently. I think a lot of this is spin off from the postal survey we had. A lot of people felt they had the right to say and do whatever they liked, no matter who it hurt," Argent told the ABC.
"Now with this religious freedom review going on, it's a little continuance of it. They're cowards basically, and feeling a little bit more brave.
OIP Staff
---