Shorten picks Pat Dodson to replace Joe Bullock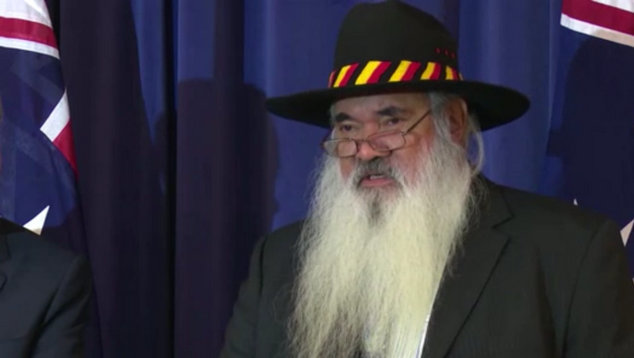 Labor leader Bill Shorten has announced Patrick Dodson will  have his support as the nominee to replace outgoing senator Joe Bullock.
Senator Bullock announced last night that he will be quitting politics after only two years in his role in protest to Labor support for "homosexual marriage".
Mr Dodson is former chairman of the Council for Aboriginal Reconciliation and commissioner into Aboriginal deaths in custody. At a press conference is Canberra he said he had accepted the offer after "deep thought".
"Nationally recognised and rightly admired as the father of reconciliation, a truth teller, a powerful advocate for recognition, justice equality and fairness for Aboriginal and Torres Strait Islander people." is how Mr Shorten introduced Mr Dodson to the media this morning.
Mr Dodson left the Labor party in the 1980's and said he considered himself politically unaligned since then.  Mr Dodson was the first indigenous Australian to be ordained as a Catholic priest, he left the priesthood in the early 1980s.
At this morning's media conference was asked about his thoughts on marriage equality. Mr Dodson said there was an ongoing battle between the church and state and he respected people's individual moral decisions.
"But when it comes to our civil society … any discrimination or disadvantage caused to people who make their own choices … as a parliament we should try to eliminate those in order to facilitate the quality of life that individuals want to pursue," Mr Dodson said.
If Mr Dodson's nomination to the federal senate is ratified by the Western Australian parliament he will serve out the remaining four years of Senator Bullock's six year term. However, with the looming threat of a double dissolution election, mr Dodson may have to face voters as early as July.
Bring Back Pratt campaign launched
Mr Shorten's endorsement of Mr Dodson as a replacement appears to have dashed hopes that former Senator Louise Pratt would return to federal politics.
Ms Pratt, who was the incumbent senator, was bumped from the top spot on their ticket prior to the 2014 election and in the 2015 senate re-run election failed to gain a seat.
Prior to the senate election Mr Bullock was caught on tape making insulting comments about Ms Pratt, and describing Labor members as "mad".
Last night Ms Pratt told the ABC that she would be putting her hand up for the vacant position but she has since conceded she is unlikely to nominate given Mr Shorten's endorsement of Mr Dodson.
Support for Ms Pratt's return saw a Facebook group called 'Bring Back Pratt' launched following Mr Bullock's resignation.
Many Labor supporters have expressed disappointment that Mr Shorten has nominated a hand picked candidate rather than leaving the decision to the state executive and local members.
Ms Pratt, who is pre-selected to be third on the Labor party's senate ticket at the next election, has said she still hopes to make a return to federal politics.
Little praise for Senator Bullock's service
Praise for outgoing Senator Joe Bullock's parliamentary service has been more forthcoming from outside the Labor party than within.
One anonymous Labor MP reportedly responded to the news of Senator Bullock's resignation by saying ""Good riddance to the big fat rat."
Fairfax media reported the comment saying their was no love lost between the conservative senator and his party colleagues.
Labor leader Bill Shorten described Senator Bullock as a man who held strong convictions, including many he personally disagreed with.
"I don't agree with his views on a number of issues – including marriage equality – but I respect his right to hold those opinions." Mr Shorten said.
The Australian Christian Lobby described Senator Bullock's resignation as a tragety saying it was a "sad day for tolerance". Lyle Shelton the executive director of the right wing lobby group said Mr Bullock had shown great honour in resigning over the issue.
"It is disappointing that one of the parties of government has made itself unwelcoming for people who wish to support preserving the definition of marriage between one man and one woman.
"It is tragic that someone like Senator Bullock, who has given his life to the Labor cause, has effectively been driven out of the party he loves because it no longer tolerates support for the timeless definition of marriage.
"Senator Bullock has showed great honour in resigning. The best way for Labor to again welcome people who support traditional marriage is for the Australian people to vote to preserve it at the promised plebiscite," Mr Shelton said.
Writing at New Matilda, journalist Max Chalmers said Senator Bullock's parliamentary career had come to rest but it would always be bookmarked by attacks on LGBTI people.
A crowd source fundraising campaign was launched to send Senator Bullock a giant rainbow cake for his retirement.
OIP Staff