'Show & Tell and Body Not Fit For Purpose' is thought provoking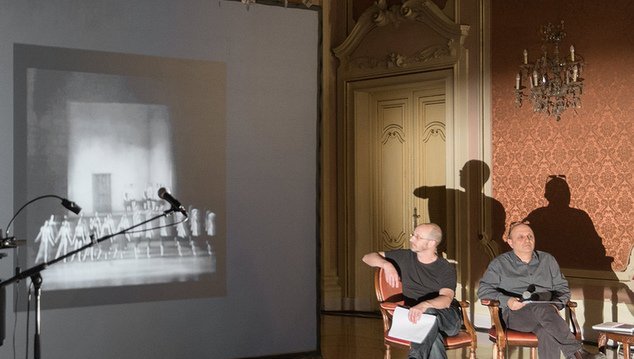 Show & Tell and Body Not Fit For Purpose | PICA | April 28 & 29 | ★ ★ ★ ½ 
In Show & Tell and Body Not Fit For Purpose, choreographer Jonathan Burrows and composer Matteo Fargion, deliver a performance that is quite unlike anything I've seen before.
The pair begin sitting in a couple of arm chairs and take turns playing videos of different performances they've been exposed to during their lives. It starts off with a grainy clip of some charmingly odd English folk dancing.
At first it feels like you've signed up to a really bad slide night. During the pairs' debut performance at PICA one audience member walked out after just a few minutes of the odd presentation. But as it progressed, the quirky work became increasingly more interesting and thought provoking. Questions began to float though my mind.
The first section, which involved a series of video presentations that included South African choirs, old ballets and interpretive dance, was rather tedious, but sprinkled with moments of hilarity.
My family's Scottish, would our home movies look as odd as these examples? Probably.
Later the duo moved over to a piano and begin to recite lists of their favourite writers, musicians and art works. A dead pan delivery that was strangely captivating.
As they read through pages of text citing their love of Chopin, Ginger Baker, flamenco dancing, and A Chorus Line, you couldn't help but begin to ponder what all these things had in common. Backed by some solemn piano a long list of cultural touch points was declared.
I suddenly found myself thinking of the artists Gilbert and George. A moment later Burrows and Fargion named Gilbert and George. I wondered if The Smiths would make their list, they did. I began to wonder if I had telepathic abilities.
Then I found myself pondering if I was being too judgmental when they included a Steely Dan album, but I'm with them on the value of the film Koyaanisqatsi.  What is gum boot dancing?
Mentally I started to make my own list of things that I've been inspired or influenced by. Fred Astaire, The Saturday Show, Sheila E, Saint Etienne, Alistair Hullet, The Cement Garden, Derek Jarman, Richard Brautigan and so on.
I wondered if instead of watching The Voice during the week if I should have instead been using my time more wisely. Paradise Lost made their list, I've never read it. Maybe instead of watching talent shows I should have been reading the classics.
Finally the duo spend some time sitting at a table, Fargion played a mandolin, while Burrows performed a series of dances.
Dances is what they called them. Mostly performed sitting, Burrows delivered a series of precisely choreographed arm movements.
Was there a rule somewhere that says dance can't be performed sitting? No. Is there a lost opportunity for a dance company in wheelchairs, I wondered. Could dance be brought into board meetings? Which local arts organisation is the one most likely to embrace a sitting dance before a staff meeting? So many questions.
This was a show that featured some very subtle performances, that let the humour of the situation, slowly creep into the proceedings. It was quirky and odd. Exceptionally bizarre, and concurrently, somewhat bland and unremarkable.
It got me thinking… but maybe it's better not to think too much about it.
Graeme Watson
---