Both sides of marriage debate thank their supporters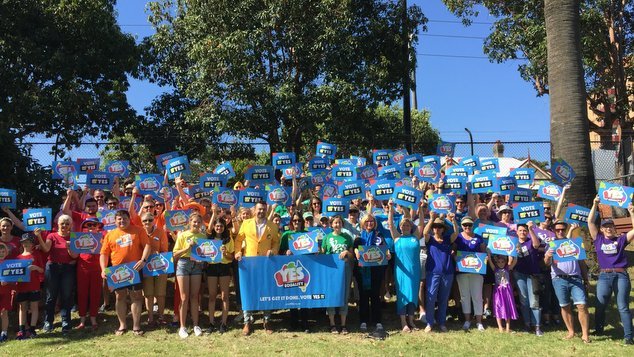 Advocates on both side of the debate have thanked their supporters as the Australian Bureau of Statistics closes the national survey on marriage.
The Australian Bureau of Statistics Office in Perth was the final place that survey forms could be submitted, it stopped taking forms at 4:30pm today.
Earlier the government organisation revealed that 12.6 million eligible voters had taken part in the process, and the number is expected to be higher when the final results are released next week.

The Equality Campaign has described today's announcement that nearly four out of five people have returned their marriage equality postal surveys as a "phenomenal result" saying it reflects the resolve of ordinary Australians to achieve dignity and equality for all.
The Equality Campaign's Anna Brown welcomed the last minute returns, saying the turnout was now one of the highest in the world for a voluntary ballot.
"Nearly four out of five people is a phenomenal turnout, and the final tally is still to come. It is not inconceivable that we could exceed 80% by the time the survey finally closes.
"We are grateful to the millions who have voted and the tens of thousands of volunteers who have campaigned long and hard for all Australians to be given a fair go.
"This extraordinary turnout shows that Australians have taken the campaign seriously, and they are determined to show their politicians what it means to act in a decisive way. It highlights how important this issue is to Australians.
"Civil marriage equality takes from no-one. It will make a profound difference to the lives and dignity of LGBTI Australians and their family and friends," Anna Brown said.
Alex Greenwich, from the Equality Campaign, said once the survey closes tonight, the country faces a nervous wait for the result to be revealed at 10am on 15 November.
"This next week is going to be a long and uncomfortable one for many LGBTI people and their allies who have worked so hard to achieve a YES result.
"It's time to look after each other and ensure anyone who is doing it tough gets the extra support they need. Help is available and we urge people to reach out for assistance and not try to battle through this on their own."
Greenwich said attention would now turn to the next stage of the campaign.
"After being put through this process, Australians won't stomach politicians playing with the lives of their gay and lesbian friends and family members any longer.
"We've had the survey, we've got the bill, and lets hope the will of the Australia people is reflected in the result. From the 15th of November, it will be time for federal politicians to do their jobs and vote this through," Alex Greenwich said.
Lyle Shelton, Executive Director of the Australian Christian Lobby thanked those who had given their support to the Coalition for Marriage, the organisation that advocated against allowing same sex couples to marry.
"We are extremely grateful for the contribution of the millions of Australians who supported our campaign: our indefatigable staff and volunteers, our generous donors, and the countless others who supported us by sending messages of encouragement, speaking with their families, friends and neighbours about the consequences of redefining marriage and, most importantly, voting 'no' in the survey," Shelton said.
Shelton said neither side of the debate would accept the result of the survey and said if the 'Yes' campaign was ultimately successful in winning the postal survey, those on the 'No' side would have to get straight back to work.
"If a 'yes' vote prevails, we will also need to get straight back to work. Throughout the campaign, we have spoken about the effect that a change in the Marriage Act will have on all Australians.
"It will be incumbent upon us to hold the 'yes' campaign to its pledge that there would be no consequences to a change in law.
"If a 'yes' vote is returned, we will do what we can to guard against restrictions on freedom of speech and freedom of religion, to defend parents' rights, and to protect Australian kids from being exposed to radical LGBTIQ sex and gender education in the classrooms." Shelton said.
"We promise our supporters that no matter the result, we will continue to work to defend Australian families," he concluded.
The results of the survey will be announced at 7am (WA time) on Wednesday 15 November. 
OIP Staff, Image: Marriage Equality supporters form a rainbow at Loton Park Tennis Club in Perth.
---
Support OUTinPerth
Thanks for reading OUTinPerth. We can only create LGBTIQA+ focused media with your help.
If you can help support our work, please consider assisting us through a one-off contribution to our GoFundMe campaign, or a regular contribution through our Patreon appeal.