Singapore's Archbishop wants homosexuality to stay illegal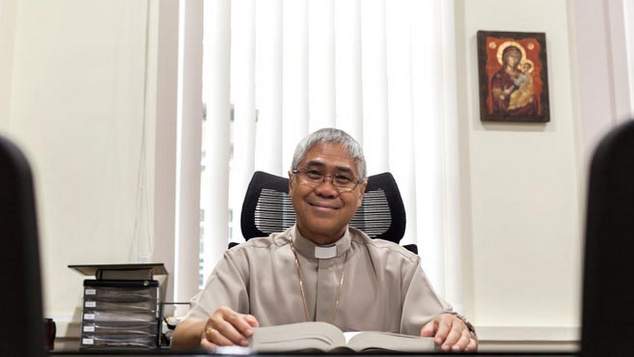 The Catholic Archbishop of Singapore has shared his views on the push to decrimalise homosexuality arguing that it should remain illegal because it will lead to gay people wanting to marry and adopt children.
William Goh published a pastoral letter to Singapore's Catholic community outlining the Catholic church's opposition to the laws changing. There has been considerable debate in Singapore about the archaic colonial era laws following a legal decision in India which saw their nearly identical laws struck out.
Archbishop Goh said Singaporeans should accept that gay couples are not prosecuted under the law if they keep their sexual activity private and the law reinforces that marriage and forming families is for the greater good of society.
"Will repealing the law help to promote the flourishing of individuals, family and society according to God's Plan? Or will it embolden activists to push further for the normalisation of same-sex relationships, such as legislation to permit same-sex marriage and the adoption of children by same-sex couples?" Archbishop Goh asked.
The Catholic leader said that decriminalising homosexuality could lead to believer religious freedoms being impinged.
"Will the repeal of this law lead to the subjugation of the rights of Catholics to exercise their faith values, and force them to accept homosexual values and lifestyles in their homes, schools, faith communities, work places and places of worship?" Archbishop Goh said.
The Archbishop also said people should be concerned about transgender wanting to use a bathroom that is different to their birth gender and decriminalising homosexuality would be the beginning of a "slippery slope" that has been witnessed in other nations and lead to "dire" consequences.
"…repealing the law will not be the end of the saga. Rather, it would only embolden the push to legalise same-sex unions, adoption of babies by same-sex couples, surrogacy, and even the criminalisation of those who hold contrary views of marriage and who oppose same-sex unions." Archbishop Goh told followers.
"I pray that we will not walk the slippery path of no return." Archbishop Goh said.
Earlier this year at the Commonwealth Heads of Government Meeting in London British Prime Minister Thersa May said the laws which had been left around the world by Britain during colonial times were wrong. May offered to assist any countries who wanted to remove the legislation.
OIP Staff
---