'Single Ladies' explores the good, bad & awkward of sex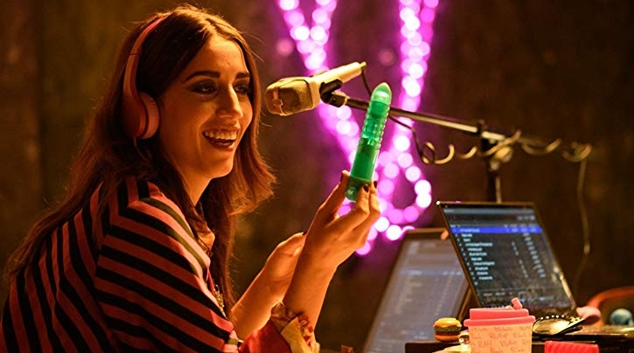 Releasing on Monday 22nd July on Hyvio, Single Ladies is a collection of 6 short comedies that are between 7 and 8 minutes long. This Perth initiative is directed by Gemma Hall, Jacqueline Pelczar and Mimi Helm, written by Aaron Moss and produced with investment by Screen Australia and ScreenWest.
Gemma Hall is a Perth-based film and theatre maker with a Bachelor of Media (Majoring in Screen and Sound) and Perth filmmaker Jacqueline Pelczar has produced, written and directed four of her own short films. Mimi Helm is a writer, director and production designer with an honours degree in Screen Arts from Curtin University and Aaron Moss is a Western Australian graduate from the Central Institute of Technology. As a screenwriter his interest is in eccentric, adventure-driven characters and black comedy.
All the action takes place around controversial radio show run by two strong, confident women attempting to navigate the murky waters of relationships. As radio hosts, on air Nina (Alexandra Nell) and Catherine (Megan Hollier) are successful women, offering advice and talking about the dos and don'ts of the dating world; off air they're absolute messes.
Catherine is a workaholic who has given up on love after a string of bad relationships. Nina is afraid of dying alone and will stop at nothing to make sure Catherine never leaves her. After learning that their radio show has been cancelled and is being taken off the air, together with their segments producer Hashim (Jad Abid) they find themselves in all kinds of unpredictable situations as they attempt to save their show.
Catherine and Nina's unique friendship, along with their ability and willingness to speak openly and positively about subjects that are so often associated with shame and swept under the rug, speaks to a generation of youth. "We are in an age where sex is more openly discussed than ever. We are oversharing about our sex lives daily on social media, we're not scared of being open about sex or sexuality. We are seeing more people drawn to hookup culture and no strings attached sex. We are starting to question monogamy and how sex affects our relationships and overall well being and happiness."
Single Ladies explores all sides of sex – the good, the bad, and the straight up awkward. Catherine and Nina find their sex-pertise frequently challenged on their journey through single-dom, heartbreak and love. "We are addressing what sexual empowerment means to women in the 21st century, a world where casual sex is more accessible than ever before."
Single Ladies releases on Hyvio on Monday 22nd July. You can find more info on Facebook & Instagram.
Lezly Herbert