The Sound of Music is Thoroughly Enjoyable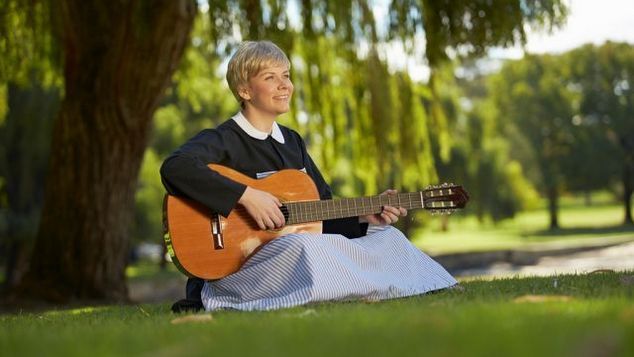 'The Sound of Music' is currently playing at the Regal Theatre and it's a great staging of the much loved musical.
Produced by Ian C Westrip, the production utilises a mix of professional and up and coming performers, but to call this production amateur would be a great disservice. From it's epic sets, to captivating performances and a huge cast – bigger than most big budget productions – this is a show that delivers.
Being an incredibly well known musical thanks to the very successful film is a double edged sword. One one hand the audiences knows all the songs and ready to sing along at a moments notice, but on the other hand the performances of the film's cast are well and truly etched into our brains. The cast of this production superbly claim the roles as their own and within minutes of the curtain rising you are absorbed by their performances.
Stephanie Gooch is excellent as Maria, the problem attracting novice nun who is sent off to be the Governess for seven adorable but challenging children. Gooch has a great voice, crystal clear deliver of every line and manages to show the development of the character from novice, to woman to wife. Gooch's operatic voice is used to full effect.
Similarly Nola Formentin delivers a brilliant performance as the Mother Abbess, her rendition of 'Climb Every Mountain' is one of the show's highlights. The anticipation as the Mother Abbess approached one of the musicals most famous lines, the often misheard, "What is it you can't face." was comical, the audience tensed as the line drew near and there was obvious admiration as the actress delivered the line crispy and clearly, no chance of a misunderstanding here.
Igor Sas get's every laugh possible out of his turn as Max Detweiler, a truly well nuanced performance, and Julia Hern is wonderful as the Elsa Schraeder. The performance of Ian Cross is the role of the father Captain Von Trapp was slightly disappointing. Captain Von Trapp is quite a stiff character and Cross' performance lacks connection with the audience.
Lauchlan Edward Bain is so in character as the butler Franz that I didn't recognise him during the performance, Donna Williams is also an excellent Frau Schmidy. The children are being played alternating casts on each performance but on opening night Alexandra TJ, Adam Di Tullio, Zoe Crisp, Seamus Harrison, Stephanie Shaw, Katie Price and Caitlyn Steele were simply charming.
'The Sound of Music' was a delightful and fun night of musical theatre, rush to see this one.
The Sound of Music is at the Regal Theatre until Saturday July 19th.
Graeme Watson