South Pacific Coming to WA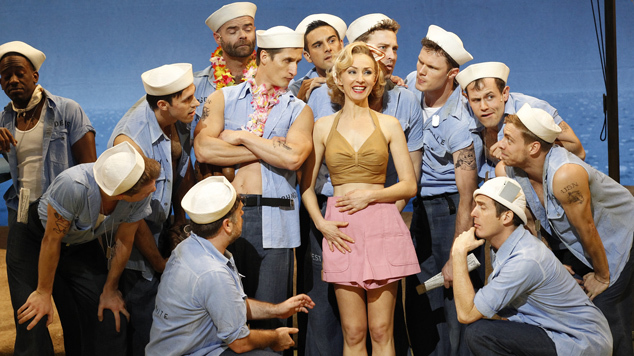 Perth raised actress Lisa McCune is returning to Perth in Opera Australia's production of 'South Pacific', surprisingly it'll be the first time she'll have appeared on a WA stage since she graduated from the WA Academy of Performing Arts over 20 years ago. Joining her in the cast is singer and actress Christine Anu who takes on the role of Bloody Mary.
When we meet for lunch at Rockpool to chat about the show Anu looks amazing. Twelve months ago the singer signed up to Channel Nine's doomed 'Celebrity Fit Club'. Now she has regained the slim and fit body she sported at the start of her career, Anu describes her fitness regime as 'a work in progress.'
McCune also looks radiant, even though just hours earlier she had been in Melbourne at the Logie Awards. I mention that she was featured in a lot in the coverage on breakfast television that morning. She asks if anyone had pointed out that she was wearing the same dress as another celebrity at the function. I assure her it went unnoticed, but since we're talking about Logie's I pluck up the courage to ask her where she keeps her many gold statues.
"They used to be in a suitcase when the kids were first born, because they're actually really heavy. Now they're up on a bookshelf quite high up. They go to school every year around Logies time, and a few of them have been pushed down the slide a few times and they're coming off their bases. I need to find the Logie hospital and get them re-tightened."
Clearly both McCune and Anu have been enjoying the experience of working with Opera Australia in the show that has enjoyed sell out runs in Melbourne, Sydney and Brisbane. Both share that there were many enticing reasons to be part of this production.
"I love Rodgers and Hammerstein, I had such a great time in 'The Sound of Music'", explains McCune who smiles before admitting, 'the narcisism of getting to perform at The Sydney Opera House' as one of her motivators for singing on for the role.
For Anu stepping into a musical with some serious singing requirements is the latest step in a career that has allowed her to traverse from a successful pop career to serious dramatic theatre roles and television, including her role in last years gay sci-fi geek comedy 'Outland'.
"I don't think you could say anything in my career has been same-same" says Anu. But she sees something special in the role of Bloody Mary, "It's a character role where there is no nuance of Christine in the character at all."
'South Pacific' is an experience both actresses are thrilled to be a part of, noting the beauty of the costumes, large cast plus the experience of working with Broadway superemo Bartlett Sher, who directed the same production that ran in New York, as some of the reasons they're having so much fun.
South Pacific is at the Crown Theatre from November 10 – 24 November for a strictly limited engagement. For more info click here.
 Graeme Watson