South Pacific – An Outstanding Theatrical Experience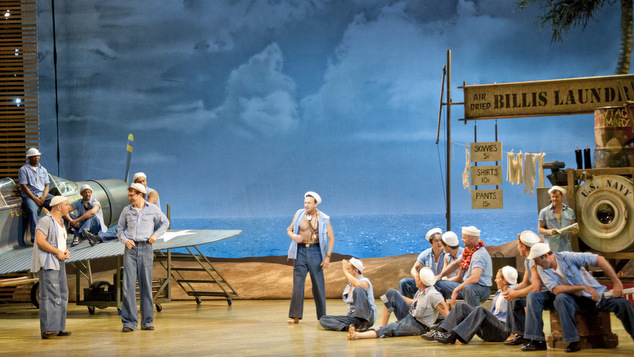 Opera Australia's 'South Pacific' opened last night at The Crown Theatre and the show which has successfully played in Melbourne, Brisbane and Sydney lived up to it's hype and praise.
The musical, which premiered in the 1940, is a time capsule of attitudes and social conventions of a different time. Watching the romantic story you cannot help but recognise how far society has evolved.
Hometown girl Lisa McCune was dazzling as the conflicted Nellie Forbush.  Who faces a battle between her love for plantation owner Emile De Beque and her trouble accepting that he was previously married to an island girl and has mixed raced children.
McCune embodies the character, complete with accent, style and personality. From the beginning of the show to the final note it's Nellie Forbush on stage, with no sign of McCune or any of the characters we know so well from television peeking through. A testament to her great skill as an actress. McCune delivers a vibrant, energy laden performance that is world class.
The musical is filled with memorable songs, you might be surprised by how many you already know from the romantic 'Some Enchanted Evening' to the big sing-a-long tunes like 'Gonna Wash That Man Right Out of My Hair' to 'Nothing Like a Dame' and the catchy 'Happy Talk' – which was sampled by rapper Dizzee Rascal for his hit 'Dream'.
Appearing as love interest Emile De Becque, opera star Teddy Tahu Rhodes showcases his deep baritone voice to full effect. Tahu Rhodes is captivating in the singing parts of the show but his acting was slightly stilted as his deep voice distracting. When he reveals to Nellie that he has two children and declares "I am Their Father", it was like the spirit of Darth Vadar had entered the auditorium. There are other moments in the show though when Tahu Rhodes character shines, especially when he mocks Nellie's 'Gonna Wash That Man Right Out of My Hair' routine.
Christine Anu transforms herself to be Bloody Mary, a Tonkinese women who wheels and deals her way ahead in life, and the soldiers the war have brought to the island have only helped make her richer. Alongside her entrepreneurial business activities Bloody Mary is also a match maker setting her daughter Liat (Celina Yuen) up with the attractive young Lieutenant Joseph Cable, who is played by the gobsmackingly good looking Blake Bowden. You'll fall in love Bowden when he walks on the stage, fall in lust when he takes off his shirt, and fall under a spell when he begins to sing.
The rest of the cast are fabulous too, Mitchell Butel gets stacks of laughs as Luther Billis, Bartholemew John is impressive as Captain Brackett and the duo of Rowan Witt as Professor and Andrew Hondromatidis as Stewpot are constantly drawing the audiences attention.
This one big old fashion musical performed exceptionally well. There's no flying cars, or green faced witches, there's no helicopter landing on stage or a chimney sweep dancing over the ceiling. What's big and exceptional in this production is the singing, the performances and the love story.
South Pacific runs from 10th to the 30th November at the Crown Theatre for a strictly limited season. Tickets through Ticketek.
Graeme Watson, image: Mitchell Butel as Luthur Billis – 'There is Nothing Like a Dame' by Ryan Boldison