Stage extravaganza 'Puttin on the Ritz' returns to WA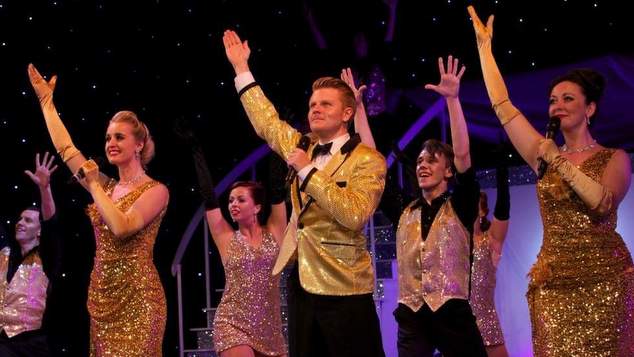 The theatrical show Puttin' on the Ritz is returning to Western Australia at the end of June with performances in Bunbury, Mandurah and Perth.
Following the huge success of their 2017 debut Australian tour, Puttin' On the Ritz returns and will glide its way across Australia in May and June for an all-singing, all-dancing celebration of some of the most iconic music of all time.
Presented by Mellen Events, Puttin' On the Ritz promises to deliver all the razzamatazz and style, celebrating the most famous songs which hark back to the glory days of Hollywood. This extravaganza features a 16-strong stellar cast of six multi-talented vocalists and 10 energetic dancers direct from London's West End.
The soundtrack includes timeless classics by George Gershwin, Irving Berlin and Cole Porter including Cheek to Cheek, Alexander's Rag Time Band, Birth of the Blues, Swanee, Night and Day, I Got Rhythm, Easter Parade and of course Puttin' On the Ritz.
Producers describe the show as being full of glittering costumes and slick staging, paired with the most famous songs, a perfect match for a glamorous night out and a show you'll never forget.
Producer David King said they were excited about bringing the show back for another tour.
"Puttin' On the Ritz toured Australia in 2017 and it was a smash hit," King said. "Audiences loved it and we're thrilled to be able to give people another chance to enjoy a wonderful piece of musical history."
Tickets on sale Monday 25 February at 9.00am (local time)
Tour Dates
Wednesday 29 May
Albury Entertainment Centre, Albury NSW
Tickets available at:
www.alburyentertainmentcentre.com.au
Thursday 30 May
Canberra Theatre, Canberra ACT
Tickets available at:
www.canberratheatrecentre.com.au
Friday 31 May
Riverside Theatre, Parramatta NSW
Tickets available at:
www.riversideparramatta.com.au
Saturday 1 June
State Theatre, Sydney NSW
Tickets available at:
www.ticketmaster.com.au
Sunday 2 June
Civic Theatre, Newcastle NSW
Tickets available at:
www.ticketek.com.au
Tuesday 4 June
Glasshouse, Port Macquarie NSW
Tickets available at:
www.glasshouse.org.au
Friday 7 June
Costa Hall, Deakin University, Geelong VIC
Tickets available at:
www.gpac.org.au
Saturday 8 June
Frankston Arts Centre, Melbourne VIC
Tickets available at:
www.thefac.com.au
Sunday 9 June
Ulumbarra Theatre, Bendigo VIC
Tickets available at:
www.gotix.com.au
Tuesday 11 June
Wendouree Centre for Performing Arts, Ballarat VIC
Tickets available at:
www.wcpa.com.au
Wednesday 12 June
Bunjil Place, Melbourne VIC
Tickets available at:
www.bunjilplace.com.au
Thursday 13 June
The Wedge, Sale VIC
Tickets available at:
www.thewedge.com.au
Saturday 15 June
Athenaeum Theatre, Melbourne VIC
Tickets available at:
www.ticketek.com.au
Thursday 20 June
The Events Centre, Caloundra QLD
Tickets available at:
www.theeventscentre.com.au
Friday 21 June
The Star, Gold Coast QLD
Tickets available at:
www.ticketek.com.au
Saturday 22 June
Queensland Performing Arts Centre, Brisbane QLD
Tickets available at:
www.qpac.com.au
Sunday 23 June
Lismore City Hall, Lismore NSW
Tickets available at:
www.lismorecityhall.com.au
Wednesday 26 June
Bunbury Regional Entertainment Centre, Bunbury WA
Tickets available at:
www.bunburyentertainment.com
Thursday 27 June
Mandurah Performing Arts Centre, Mandurah WA
Tickets available at:
www.manpac.com.au
Friday 28 & Saturday 29 June
Regal Theatre, Perth WA
Tickets available at:
www.ticketek.com.au
---