Stephan Elliott: Best Man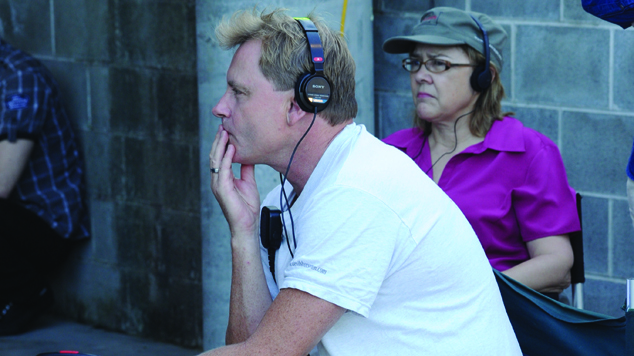 Stephan Elliott's early career as a wedding videographer inspired a healthy desire for revenge on the entire cult of weddings as well as providing rich pickings for source material. With all of the panache you'd expect from the director of Priscilla Queen of the Desert, his latest film A Few Best Men takes a look at what happens when a nice English boy tries to marry a nice Australian girl once you try and invite the bane of all weddings… friends and family.
Stephen Elliott shared his thoughts with us on…
Making a film about Australians with 'good teeth'…
I thought why hasn't an Australian film ever portrayed a wealthy Australian family?  Whether it's the old tall poppies I have no idea, but for some strange reason they just won't go there. It's an identity that is there, that is very real. That was my first decision… I'm gonna flip this…I'm gonna make it a really, really classy Australian family …and I'm going to turn the English into yobs.
You might say it sounds a little American – well  these people exist.. you gotta realise how far this country has come, even since I made Priscilla, I mean it's just leaps and bounds… we're roaring ahead  we're one of  one of the strongest economies in the world – it's a different world.
With Olivia Newton-John…
It was a total blast! People say that all the time and it's really boring… but it was a blast. I've known Olivia for many, many years but I've been trying to find the right role for her.
She was a little nervous at first but then we got going and we surrounded her with five stand up comedians in the cast. Once she found her confidence she just went for it.
…and without Bill Hunter
One person said I'm sorry I really don't like the father character – he's not Australian he should be Bill Hunter. I love Bill dearly but I said 'guys I'm not going to get a shovel and dig Bill up. I love Bill to death but we've got to move on from that…'
Working with Ramsy, the Ram…
He was brilliant! Occasionally he had his days, his moments… but once he got the rhythm of it by not being frightened of lights, cameras and whatever he was an absolute champion. He just of course would, unfortunately, like a sheep does, right on queue defecate right in the middle of an important part of a shooting sequence… but I went in knowing that one – we all expected it.
Sheep poo actually comes out like small pellets and I think at one point Chris Marshall was directly behind him with the camera and he let loose…  Chris put his hand underneath and started catching it all screaming 'jackpot!' like a pokie machine…
And… why to see A Few Best Men…
I'm very proud of this film. I think it is absolute wonderful rubbish! It's sole purpose is to entertain and make you laugh – it has no lessons, it's not trying to do anything except to make you have a good time… and sitting looking at the audiences we've had so far, I think we've achieved our goal.
Written By: Zoe Carter