Study exposes effects of racism, social exclusion on Aboriginal LGBTIQ+ people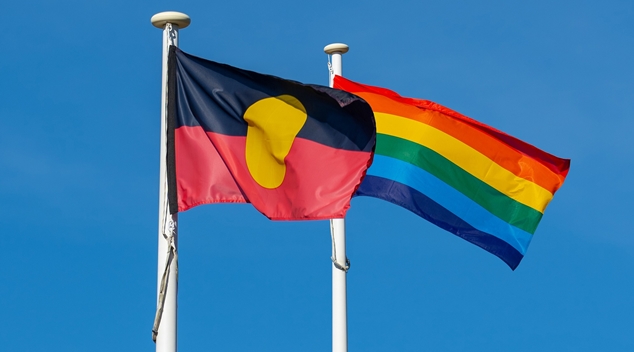 A groundbreaking study out of Edith Cowan University (ECU) has exposes the effects of racism, queerphobia and social exclusion on the lives of Aboriginal and Torres Strait Islander LBGTIQ+ people.
As part of the study, two reports published this week provide important insights and recommendations for the health, education and community services sectors to support those living at this unique intersection.
Speaking to OUTinPerth ahead of the launch, Pro Vice-Chancellor Professor Braden Hill says the work is the first of its kind.
"What we found is that there's next to no research about Indigenous queer experiences, whether it be in relation to health or education or community services, so there's nothing there to inform policy," Professor Hill said.
"We were really keen to explore what that might look like from a research point of view, and we were really excited that WA could be the focus of it."
The Healthway funded study was led by Professor Hill, with Indigenous LGBTIQ+ researchers from ECU's Kurongkurl Katitjin Centre for Indigenous Education and Research, and includes data from a survey of 63 Indigenous/LGBTIQ+ community members, 206 health care professionals and 49 focus group sessions.
Among the key findings were figures that showed more than 73% of Indigenous LGBTIQ+ participants experienced discrimination, almost 13% experienced homelessness or housing insecurity and a third felt 'invisible' within their Aboriginal and Torres Strait Islander communities.
Just 45.2% felt a sense of belonging to a wider LGBTIQ+ community, while41.9% did not disclose they were Aboriginal and/or Torres Strait Islander person when using dating apps due to a fear of discrimination.
GPs and psychologists/clinical psychologists were identified as major supports by more than 60% of participants.
Professor Hill said that while many participants felt a strong sense of pride in their identities, they often felt invisible or marginalised within the LGBTIQ+ community, Indigenous communities and broader society.
"More than 73 per cent of participants reported experiencing discrimination either sometimes, half the time or every day, including being ignored, teased, maliciously 'outed', followed in public or becoming victims of physical violence or other crimes," Professor Hill said.
"While people experienced both forms of discrimination, racism was most frequently observed as more problematic because sexuality or gender identity could be hidden, whereas one's skin colour cannot."
A key issue for a third of the participants was the sense of invisibility they felt within Aboriginal and/or Torres Strait Islander communities due to their sexual and/or gender identity.
"Some people chose to hide who they are and were concerned about not being accepted by Elders and community leaders in their communities," Professor Hill said.
"Participants said they had to endure microaggressions from non-Indigenous Queer people particularly stereotyping and 'casual' racism such as being told they don't look Aboriginal or feeling like a 'token' inclusion," Professor Hill said.
A focus of the research was access to, and experiences with, a range of health, education and social services.
Professor Hill said participants highlighted the importance of LGBTIQ+ friends, mothers and siblings, GPs, psychologists and counsellors in providing responsive care and support in times of need.
"Both community members and health care/support professionals identified the importance of employing and retaining Indigenous/LGBTIQ+ staff, using inclusive language, visible signs of inclusion, specialist staff training and courageous conversations with boards and executives as being critical to improving health care for Indigenous/Queer people," Professor Hill said.
The reports makes a series of recommendations relating to Aboriginal and Torres Strait Islander/LGBTIQ+ people including Aboriginal and Torres Strait Islander/LGBTIQ+ leadership on all related matters, inclusive health and support services that welcome Aboriginal and Torres Strait Islander/LGBTIQ people proactively as both clients and staff and better national and state level data collection particularly within health and support services.
The reports also recommended ongoing professional development and training for organisational staff at all levels, from the board and executive, through to frontline staff, greater representation of Aboriginal and Torres Strait Islander LGBTIQ+ people in social media campaigns, parenting resources, media representations and leadership positions and boards, anti-racism strategies adopted in organisations that provide support or community connection to Aboriginal and Torres Strait Islander LGBTIQ+ people and greater awareness of trans issues and safe referral pathways for Aboriginal and Torres Strait Islander trans people.
You can read both the Breaking The Silence Community Summary Report, and the Breaking The Silence Organisational Summary Report here.
Leigh Andrew Hill
Declaration: OUTinPerth co-editor Graeme Watson is an employee of Edith Cowan University
---

You can support our work by subscribing to our Patreon
or contributing to our GoFundMe campaign.