Switzerland: Jenny Davis on the extraordinary life of Patricia Highsmith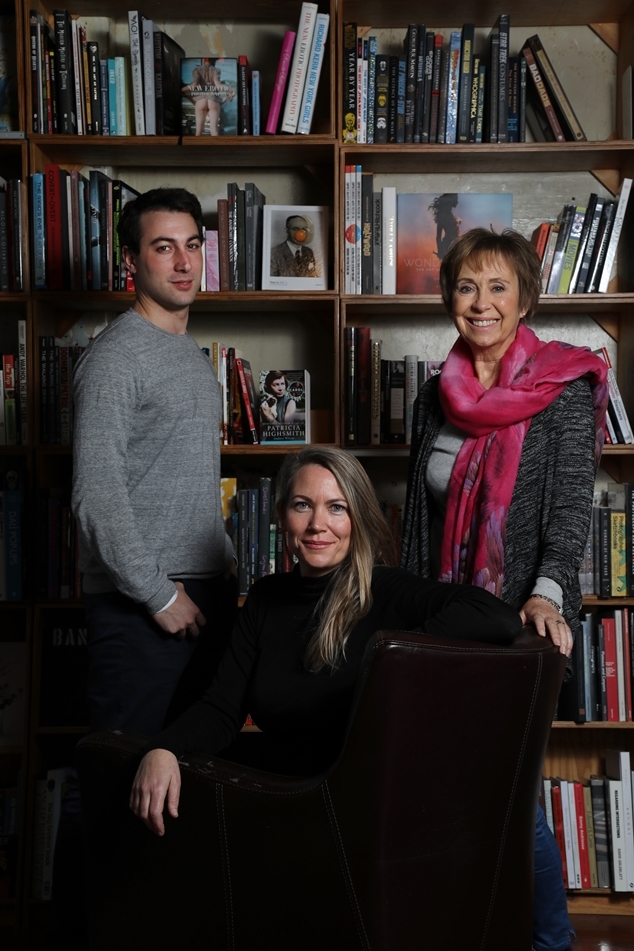 Black Swan State Theatre Company's latest production peeks through a window into the life of revered author Patricia Highsmith.
The notoriously cynical and isolated writer is perhaps best known for her works that were later translated into successful films such as Strangers On A Train, The Talented Mr Ripley and The Price of Salt which hit the silver screen as Carol in 2015.
Though her work was – and continues to be – widely celebrated, actor Jenny Davis tells OUTinPerth that Highsmith herself was an extraordinary character, who struggled with her sexuality, her gender and her relationships – leading to her final years in hermitude in Switzerland.
"I hadn't been particularly interested in what I would describe as 'crime novels', but Patricia Highsmith would be horrified if you said she wrote crime novels because they're much more than that. They're deep psychological studies of flawed human beings, and that's really why she was revered as being such an excellent writer," Davis said of her study of Highsmith.
"I had read a couple of her short stories and I always admired them because she had such a beautiful style, such an effortless, flowing style, but they're also very dark…"
Davis, who is by contrast full of light and warmth, says Highsmith's relationship with her mother had a stranglehold on all other aspects of her life. One of the most striking examples would be her short story The Terrapin, which tells of a young boy violently murdering his own mother.
"That was a story she carried with her throughout her life; a very bitter story. She never let anything go. She described her relationship with her mother as the 'great love of her life' but it was a real love-hate relationship.
"She sees love as akin to being murdered, because no-one survives. Someone has got to die in a relationship. She had a lot of crazy mixed-up feelings about love and death, so she and her mother had this very strange symbiotic relationship where they just destroyed each other… apparently out of love. One assumes that really moulded her for the rest of her life.
"When she was interviewed she was very cultured and rational but underneath there was this seething rage and bitterness and resentment which feeds her work and makes her such an interesting character to play."
Retrospectively, Highsmith was known to have had unsuccessful relationships with both men and women – being the first woman to pen a lesbian love story with a happy ending (though The Price Of Salt was originally written under her pseudonym, Claire Morgan.) Ssince Highsmith was born in 1921, Davis said she is not surprised Highsmith was not open about her attraction to other females.
"She grew up in a Calvinistic America where to be different was a sin, really. She was very confused about her sexuality and she tried to 'normalise' herself and have relationships with men – which never worked.
"She even went through therapy with Eva Klein and tried to get rid of her homosexual tendencies, but of course she never could because she wasn't her real self and so she ended up with this division within herself.
"She lived in an era where she had to fight against herself in every way. I mean, she emulated men – who knows how she would identify today, one can't really say, but her true relationships were always with women. She was always falling in love but she was always setting out to destroy the relationship. It was like she couldn't cope with a happy relationship, she was a very complex woman and very tortured soul."
Despite her apparent self-loathing Highsmith was blessed with a long and lucrative career, beginning in 1950 with Strangers on a Train. Switzerland, however, takes audiences to Highsmith's twilight years, living in the Swiss Alps.
"At the end, in the very last years of her life when she's living in Switzerland. Almost like a hermit, hardly seeing anybody… she lived in her head really.
"She lived with her characters in her head, she was obsessed with her characters. Particularly Tom Ripley who was her alter-ego and her muse. There was a story of her being given an award and she altered the writing on it so that it said 'To Patricia Highsmith and Tom Ripley'. He was almost a real person to her, he was perhaps the person she would have liked to have been."
Highsmith passed in 1995, before Matt Damon would famously take on the role of her beloved Ripley – though she was privy to other interpretations of her Tom.
"She never had anything to do with writing the movies, she didn't want to."
"The first time she saw the first Talented Mr Ripley she didn't like the actor but she grew to like him. It's very difficult for a writer to see their works interpreted in a different way. I mean, it's different for a playwright because you expect it, but I think for an author it's very difficult."
As an author, Highsmith's unique style is readily recognisable, but also offers an insight into her tortured psyche.
"When you read her novels they're full of visual detail and she really paints pictures. Very sparingly, very beautifully. She's such an artist at finding the right word and writing economically…"
"The plots are very simple. They're not desperately important, they're more for her. It's not a case of 'whodunnit' because you know who's done it. It's generally a person who commits a crime almost, ALMOST, accidentally and they have to go on with that game to keep their identity hidden. She had this theory that any one of us could commit murder, and it's just chance that we haven't been in that situation, and also that any one of us would go to any lengths to preserve our persona that we present to the world and hide the stuff underneath…"
Switzerland will be at the State Theatre Centre from Saturday August 19th – Sunday September 3rd. Tickets and more information available from BSSTC.com.au
Leigh Andrew Hill
Image:- Philip Gostelow, Featured Image:- Robert Frith

---
Support OUTinPerth
Thanks for reading OUTinPerth. We can only create LGBTIQA+ focused media with your help.
If you can help support our work, please consider assisting us through a one-off contribution to our GoFundMe campaign, or a regular contribution through our Patreon appeal.