Sydney artist RACKETT guns for the high score in new music video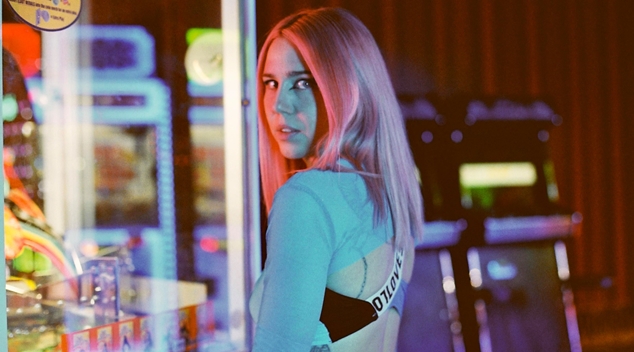 DIY indie-pop artist RACKETT has dropped a new single, with a little help from NY rapper Dante Knows and producer Dave Hammer.
The queer Aussie performer has delivered a beat driven, bass-heavy track that packs a punch and gives a taste of what's to come with her November mini-album.
We caught up with RACKETT for a chat about the single, making a music video and what she's got planned for the future.

How did you first get into making music, what's the journey been so far?
My first job writing music was for a commercial for a local Salon in Bundaberg when I was 11, which ran on commercial radio for a few years. As an adult, I started to really focus on writing music in 2013. I was selling handbags out of the back of a station wagon along the south coast, driving a lot.
I started to sing lil voice memos and then I got a mac laptop which had garage band on it. From there I started a two-piece rock band called Bec and Ben, which I played the drums and sang in. After a few years of that, I learned guitar and started writing and performing as RACKETT.
Previously you released some rock tracks, but have now moved into a more electronic sound, what triggered the change in direction?
I guess it was an alignment of circumstances and taste. I was performing and releasing rock, but listening to pop like Charli XCX and rap like A$AP Rocky. Then whilst I was recording in the studio with the band in 2018 my best friend and bass player Ally found out she was pregnant.
Ally was an integral part of RACKETT as 'a band' so when she had to leave I saw it as an opportunity to go solo and align what I was listening to and inspired by with my writing.
How did this new track come about, how was it collaborating with Dave Hammer and Dante Knows?
Dave Hammer has been my producer for years, all the way back to Bec and Ben days. When the opportunity to go solo came up, Dave and I developed our relationship from producer/artist to a co-writing team on my new sound. Dave did all the production and we co-wrote the lyrics too.
I performed the track throughout Japan in late 2019, then we revisited the track this year. Dante came in towards the end of production, I'd seen him open for Will and The People in Sydney and since then I've been hyping him. There was a gap in the track and filled it with 16 bars of fire.
What was it like shooting the video?
Working with up and coming director and editor Murli was amazing! I'd been a fan of his work for awhile so I stepped back from directing and he did his thing. I styled the shoot wearing local designers and had some influence in the creative direction. We shot it across two venues in Sydney.
One of the main sets was Archie Bros Arcade. I used to DJ there prior to COVID so the staff let us in and we had some fun on 4K HD and VHS. Another scene was shot at Tokyo Sing Song, a venue I'd performed at prior to COVID. It was kinda nostalgic shooting in these spaces that were pretty much empty due to COVID.
Have you perfected the art of winning prizes at that claw game?
That was so random. Literally I was just mucking around to get some b-roll and I actually won this giant cartoon plush. I joked with the crew that having being inside the claw game for a scene, I got to know the plushes weight and behaviour. I think it was just luck.
What can we look forward to in your mini-album coming out in November?
In November I'm going to drop all the songs I made with Dave under RKT2.0. I've released 4 of the 8 tracks already, expect an eclectic mix of EDM/PC pop.
Everywhere You're Not is out now.
Graeme Watson
---

Love OUTinPerth Campaign
Help support the publication of OUTinPerth by contributing to our
GoFundMe campaign.