The MOvember Experience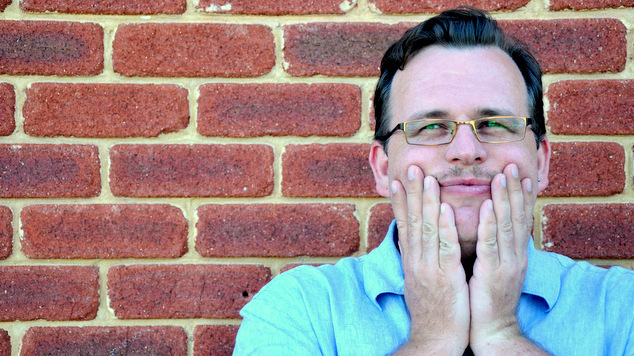 I've never had facial hair of any type before. It's not that I've not wanted to, it's just there have often been barriers to growing a moustache, a goatee or a beard.
The first barrier was that for most of my '20s I worked in the hospitality industry and almost of the companies I worked for had a strict 'no facial hair policy'. That's not to say that on a holiday I wouldn't give growing facial hair a go. I' try it for a few days, but a few millimetres into the pursuit it would be abandoned.
Which brings us to barrier number two – the accident. When I was thirteen I was on holiday here in Perth. My family owned an apartment that we would use when visiting Perth from South Hedland. One afternoon when my parents were out, I was messing around with my younger brother. I climbed on a desk that my Dad had built. The desk broke, sending me crashing to the floor, the wood smacked me in the head and a nail severely cut my top lip.
The end result was two black eyes, bruises and seven stitches reassembling my philtral dimple. The Doctor did an amazing job, today you can only see the tiny scar if I draw your attention to it, but the downside, no hair grows directly under my nose – just on either side of it. So every time I'd go to grow a mo, I'd give up after about five days – as soon as it became apparent that yes, there was going to be a 'no man's land' in the middle.
So late last month I went to the launch of MOvember, the charity that raises money for men's health in the areas of prostate cancer and mental health. I must admit the organisers of MOvember got me fired up. Growing a Mo wasn't just about raising money for a good cause, it was about manliness, it was about fathers and sons, it was about decency. So damn it, I thought – I can grow a mo as good as any other man – I signed up.
The experience has been interesting. After two days my fellow MOvember participant, and Manager of The Court Hotel, Neil O'Connor showed me his impressive growth, a few days later he'd shaped it into a remarkable handle bar arrangement. If the Village People ever need to replace the Leather Man, Neil could step in. I looked in the mirror I had nothing but a few millimetres of growth. The first week is really hard, in a hazy early morning slumber I nearly shaved the precious growth off.
A few days later I posted some photos to Facebook. My friend Mathew Pasquill gave an honest assessment, saying, 'Love, it's going to take you years.' And it was true, after 10 days I had the stubble that 'real men' have by lunch time. I wondered if I could campaign for the creation of MOv-dec-jan-feb-mar-apr-ber.
But I persevered, after two weeks, the growth beneath my nose was more visible, and as each day went by it began to dawn on me… I hate having a moustache! When I caught my reflection in the mirror, on some occasions I'd think 'Ooh – Clark Cable!' but most of the time I was more likely to think 'Mexican Bank Robber'. Now I realise that, that is an incredibly racist statement – I don't mean to cast dispersions on Mexican's – but that is where my brain goes. Each time I saw my reflection though I felt a little more depressed. Now I was fighting hard the temptation to shave it off when I faced the mirror in the morning.
Three weeks in my mother made the succinct observation, 'It looks like a chewed up toothbrush.' So much for motherly love, motherly honesty had won the day. Is it possible for something to look bushy an sparse at the same time? My facial hair seemed to be defying the rules of physics. I'd stopped looking in mirrors by the third week – I didn't recognise the guy looking back.
Having a moustache was affecting my confidence and self-esteem, I never realised how important looks were to me, I am way vainer than I realised. I used to think I had a boyish charm – but you can't have boyish charm and a moustache.
The feelings of being slightly miserable though reminded me of when I unexpectedly encountered severe depression in my mid twenties. The experience has made me more aware about how crippling mental illness can be to your life, and how hard it was for me to make a recovery. It's good the money raised is going to services like beyondblue – if they existed when I was at my lowest point of depression I would have embraced them for sure.
The light was shining through at the end of the tunnel though, the days remaining until I can be clean shaven again are quickly been counted down. Now it's just three days until I have a party with a razor.
Graeme Watson
If you'd like to support the MOvember Fundraising check out the following MOvember pages.