Things That Happened: State of the Art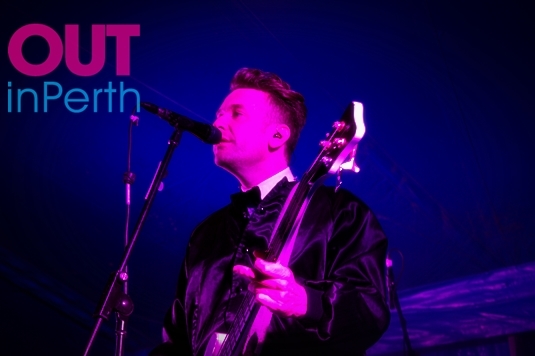 As a proud dweller of Australia's largest and most naturally bountiful state, it seemed only appropriate to celebrate the Western Australia Day long weekend by attending the State of the Art Festival. This sonic extravaganza took place in the heart of the Perth Cultural Centre as a celebration of local music, with Perth bands performing at four stages dotted through the area as well as popup performances throughout. Fortunately for me, this music festival adventure didn't begin with quite as much vomit as last time, so I was off to a good start. Of course it was impossible to see every band on the line up, packed as it was, but I aimed to give it my best shot.
My musical adventure began with the indie rock stylings of Axe Girl, who in both their name and the nature of their lead singer Addison Axe, with her peroxide infused mane and tattoo-covered tough girl appearance could easily be the cousin of manic 1990s punk heroine Tank Girl. The three piece played an energetic set full of hook-laden melodies to a small but enthusiastic crowd. Axe gamely delivered sweet guitar riffs and great vocals. She's a bit like a punk pop Yolandi Vi$$er. The audience was so charmed by the band that at the climax of their single 'Give Me Your Tee Shirt' a spectator removed his shirt and threw it onto the stage, narrowly avoiding Axe's guitar. Quite a sacrifice given that the festival had only just begun and there were several hours of music spectating to be had on chilly day.
Next up it was off to the Urban Orchard for to check out Ruby Boots, an alt-country Americana outfit lead by singer/songwriter Bex Chilcott. The internet tells me that Ruby Boots has recorded with such hallmarks of Australian music as You Am I's Davey Lane and Jordie Lane and Vikki Thorn from The Waifs. This is no surprise given how smoothly flows Ruby Boots' vintage sound, which takes its cues from more traditional country roots but is still undeniably modern.
Then it was down to a cosy tented set up in the State Theatre courtyard for Simone and Girlfunkle. The tent had a number of Persian rugs set up on the floor of the tent, allowing the audience to settle down on the floor as the band lay down their chilled out folksy tunes. Seeing Simone and Girlfunkle play live is a bit like floating away on a dense, pink cloud of loveliness with the taste of marshmallows inexplicably on your tongue. The band featured a variation of smooth, slow tracks as well as more upbeat, danceable numbers, all with beautiful harmonies. The group has so many members they could barely fit onstage but they still managed to get everyone up onto their feet and dancing for their final song of the set.
After a brief chip-related respite it was time to return to the fray well-nourished for the act many festivalgoers were waiting for, San Cisco. San Cisco drew a massive crowd of young and old, and I was beginning to grow accustomed to seeing children and their parents dancing along beside the mosh pit. It's rare for a music festival to attract such a range of demographics. It's testament to the relaxed vide of State of the Art, where people seem to be genuinely enjoying the music as opposed to using it as a backdrop for recreational drug use and shirtless gyrations. San Cisco lived up to their reputation as darlings of Triple J and delivered a fine set, but I had to cut it short as I made my way back to the State Theatre courtyard for Kučka.
Kučka is the brainchild of Perth girl Laura Jane Lowther, who released her first EP in 2012 and has since done backing vocals for A$AP Rocky. She's recently released a new track called 'Unconditional' with which I have developed an unhealthy obsession. Kučka's music has a cosmic, trance vibe with unearthly beautiful high-pitched vocals. Kučka jammed out on keytar and delivered well on the angelic vocals I'd heard recorded, making for a tight, beautiful set of tripped out songs. She's one Perth artist that I predict will go places.
Next up was Felicity Groom, backed by a group of able musicians. Groom's folk-pop numbers are by turns dark, growling and intense and sugary and melodic. Groom has confidence onstage that immediately engages an audience. It's no surprise she drew a large crowd of devoted fans. The crowd grew larger still for what was easily the festival's biggest name, Eskimo Joe. These boys packed out the State Theatre courtyard and delivered a sharp set with a number of their well known songs. Joel Quartermain proved his worth as a rock star frontman by gamely delivering vocals and at one stage jumping into the audience.
I capped off the evening with a typically energetic set from the Brow Horn Orchestra, known also known as simply The Brow, because who has time for all those words when there's so much dancing to do?! I've seen these guys live a few times and they never fail to set off the most spectacular cluster of en masse terrible dance moves this side of the Annual Convention of Embarrassing Dads. The Brow's blend of funk, reggae and hip hop is so infectious you can't help but lose your inhibitions and boogie like you've never boogied before. Top notch.
This year's State of the Art Festival was a testament to the sheer amount and variety of musical talent in Western Australia. It's also one of the few festivals that somehow manages to be a rollicking good time while still providing a safe and fun atmosphere for families as well as the usual party going crowd (of course when I say families I would suggest only bringing children for whom toilet training is a long distant memory. It's still a music festival, after all). I for one hope for many more State of the Art Festivals with many more Western Australian musicians coming out of the woodwork for years to come.
Sophie Joske