Thousands enjoy 'La Traviata' at Opera in the Park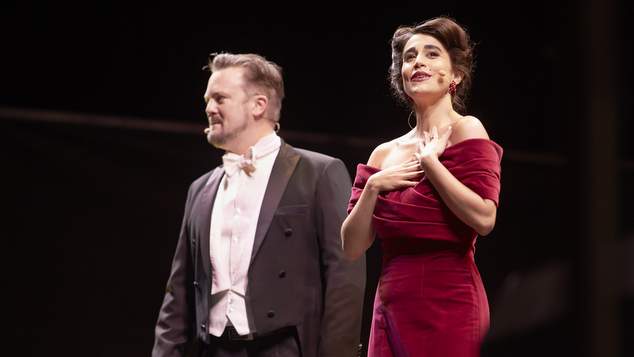 Thousands of people filled Perth's Supreme Court Gardens on Saturday night at the WA Opera presented a free performance of Verdi's much loved opera La Traviata. 
The work was presented simply as a concert presentation with the singers taking to the stage dressed in ball gowns and tuxedos, free of complex costuming and sets.
Elena Perroni captivated the audience as Violeta, while Paul O'Neil appeared as her lover Alfredo. James Clayton was well suited as his meddling father Giogio.
It was wonderful to see Robert Hoffman appear as the doctor Dottore Grenvil, and Sam Roberts- Smith was great as Marchese d'Obigny, we're certainly looking forward to seeing him in more works.
It's the first time the company has performed the popular work at the free outdoor concert.
The performance kicks off a huge year for the WA Opera who have an exciting program for 2019.
Next up is Barry Kosky's acclaimed production of Mozart's The Magic Flute will be part of the 2019 Festival of Perth. This version of the much-loved work blends animated film and live action and is set in Germany in the 1920's during the days of Weimar cabaret.
Ben Mingay will return to the stage at His Majesty's Theatre for Sondheim's Sweeney Todd. The Demon Barber Fleet Street, together with his accomplice: the proprietor of Ms Lovett's Pie Shop, will ensure that you'll never look at a pie in quite the same way again.
With just four performances of the production scheduled for July – this is sure to be a sellout long before the curtain rises on opening night. Antoinette O'Halloran will play Mrs Lovett, while James Clayton, Matt Reuben James Wardl, Paul O'Neill, Nathan Stark, Emma Pettemerides and Fiona Campbell will round out the cast.
Finally there will be a staging of Verdi's Macbeth with James Clayton taking on the lead role. The operatic version of Shakespeare's tale will be produced in October. Despite its long history, it's the first time the opera has been staged by the company.
For tickets to 2019 performances head to the WA Opera site, and if you're a lover of opera why not just become a subscriber and book for the whole season.
Graeme Watson
---