Time for a new name: AFAO rebrands as Equity Health Matters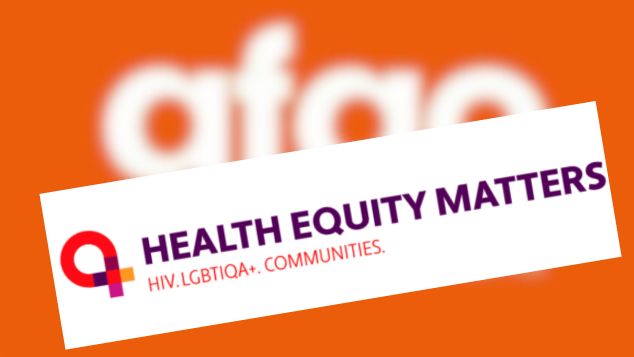 The Australian Federation of AIDS Organisations (AFAO) have announced a name change.
Australia's peak body for HIV advocacy will now be known as Health Equity Matters, a new identity that reflects its growing role as an advocate for the broad health needs of LGBTIQA+ people and marginalised communities.
First established in 1985, the organisation's focus has expanded in recent years.

"We are changing our name to better reflect the challenges faced by LGBTIQA+ people and communities affected by HIV today," President Mark Orr said.
He said LGBTIQA+ people, and marginalised communities affected by HIV, still experienced poorer physical and mental health than the general population.
"The services and support are there, but the access for all is not. The right to equitable health access is a human right." Mr Orr said this reality must be reflected in the design and delivery of health policies.
CEO, Darryl O'Donnell, said ending HIV transmission remained the peak body's main purpose at the core of ending health inequity for all LGBTIQA+ people.
"Health Equity Matters honours those we have lost to HIV and who are living with it today, while supporting the work of member bodies focusing on areas of health inequality," Mr O'Donnell said.
"This includes stigma, discrimination, and unacceptably high rates of ill mental health, social isolation and suicide."
Health Equity Matters' new logo combines the HIV ribbon with a healthcare cross to reflect the vibrancy and diversity of LGBTIQA+ people and communities affected by HIV.
The rebrand will roll out over the next three months.
The organisations decision to change their name and remove the outdated phrase of AIDS follows moves from many of their member organisations. The WA AIDS Council has rebranded as WAAC, while its Victorian equivalent is now known as Thorne Harbiyur Health. New South Wales body also goes by just it's former acronym ACON.
OIP Staff
---
Do you need some support?
If you are struggling with anxiety or depression, support and counselling are available from:
QLife: 1800 184 527 / qlife.org.au (Webchat 3pm – midnight)
QLife are a counselling and referral service for LGBTQIA+ people.
DISCHARGED: [email protected] / discharged.asn.au
Discharged is a trans-led support service with peer support groups for trans and gender diverse folks.
Lifeline: 13 11 14 / lifeline.org.au
Beyondblue: 1300 22 4636 / www.beyondblue.org.au