Tkay Maidza Stomps Her Feet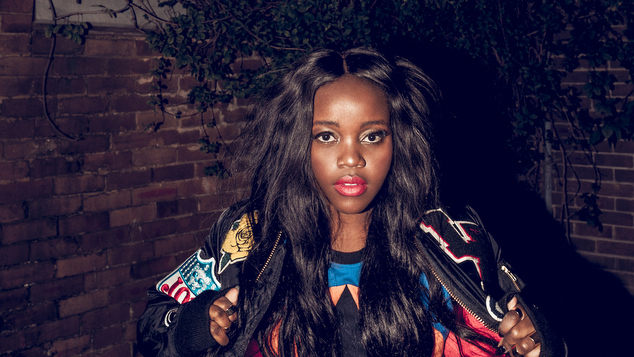 Tkay Maidza's debut song 'Stomp Your Feet Like a Brontosaurus' was an infectious underground rap hit, one listen is all it would take to have the songs chorus chanting in your head.
Now the singer is back with a fiercely infectious new tune 'Uh-Huh' and a round of praise following her recent performance at 'Splendour in the Grass'. While the singer comes across as being a tough as nails in her music and videos, when we chat to her on the phone she's as sweet as apple pie.
Maidza tells OUTinPerth that she's been excited by the warm reception her second single has received.
"It was quite a while between 'Brontosaurus' and 'Uh-Huh', I wasn't sure how people were going to react to it, but it seems to work and people like it, which is a good feeling."
Maidza said the inspiration for 'Uh-Huh' came from the experience of people pretending to like you and the reality that friendships are sometimes not genuine.
"Throughout high school I moved to so many different schools and I always be being introduced new people and because I've just lived in so many towns I've just gotten used to it. Everyone goes through it, but because I've travelled a lot I've got a few stories I could tell."
The song is accompanied by a killer video which Maidza said was a lot of fun to make.
"I was basically dancing for twelve hours," laughs the singer, "every scene where you see me dancing I had to do multiple times. It was fun but when it was finished I was like 'Oh, I've been dancing for so long.' Nobody realises how much dancing was required."
The singer has lived in many towns in South Australia including the industrial centre Whyalla and the state's capital Adelaide. Maidza promotes the cities healthy music scene and credits youth broadcaster Triple J for exposing Adelaide's music to the rest of the country.
"There are so many people who rap here." Maidza said listing a plethora of well-known names in the hip-hop game.
Being located in Adelaide hasn't stopped the artist from reaching out and collaborating with producers from around the globe.
"I have so many beats from producers overseas and across Australia. I work at home and write and record demo on my computer.
"I prefer to work with people in person, sometime they'll be vibing out on their stuff and I'll be vibing out on my stuff and we work out what should be put in and what wouldn't. That's how I start writing tracks."
Following here recent appearance at Splendour in the Grass they hype for the Adelaide performer has sky rocketed, but reflecting back on the experience Maidza is just in awe of the other artists she got to meet.
"Spledour in the Grass was amazing!" Maidza proclaims, "It would good vibes for all the days, I got to meet Childish Gambino and Sky Ferreira and I met Broods as well, they were really cool.
At the event DJ Nina Las Vegas introduced Maidza to one of her hip-hop heroes.
"When I met Childish Gambino I literally said just five words, all I could say was 'okay' and 'uh-huh', my friends are usually fangirling more than I am, but I'm silently fangirling. I kept my cool but I was shaking in my boots!"
Maidza doesn't mind that people sometimes compare her to other artists like M.I.A and Azealia Banks.
"I think it's cool, people are still trying to work out who I am and you always compare people to others when you're new, but hopefully soon people will see me as someone doing my own thing."
The next six months is going to involve a lot of touring for Maidza. She's signed up to be on the line up for the Listen Out festival, but is also supporting Illy on his national tour and will be back in W.A early in 2015 for Southbound.
For more info on Listen Out head to www.listen-out.com.au
Graeme Watson