Tomas Ford Gets Electric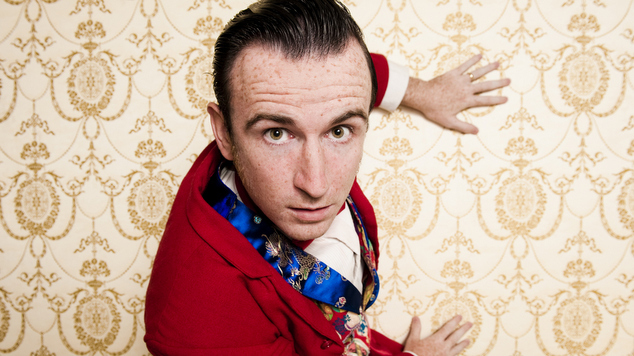 Local electro-cabaret weirdo Tomas Ford is bringing his unique brand of energetic showmanship back to his hometown in this year's Fringeworld festival after a successful season at the Edinburgh Fringe. OUTinPerth has a chat to the performer about his newest show, and why he keeps his roots in Perth even after successful tours around the country and overseas.
"I just really like Perth. I've got family here which is the main motivator for staying here. I think it comes down to the fact that I really like being a big fish in a small pond. I've got a really nice audience here that have supported my work for about ten years now and I know a lot of other performers who are similarly weird to me in other cities, bigger cities who don't necessarily have that support base in the same way. They have access to a bigger audience but they don't have the closeness, I guess, that I do with my audience and I've got heaps of collaborators here as well.
His previous show 'An Audience with Tomas Ford' was something like a showcase of his greatest hits, but with his latest work 'Electric Cabaret', he wanted to go a little deeper.
"I wanted to put together a set that was more like an hour long emotional journey. So this show is basically an hour long nervous breakdown. It gets really dark, but the darkness is balanced by some of the stupidest shit I've ever done. I've really stepped up the video projection side of what I do, so I project three TV screens on one big screen and that's, I'm told, got a David Lynch-y kind of vibe to it which is nice, my former base of comparison was 'Doctor Who', so it's somewhat of a relief to be compared to someone who is actually rad. Because I take the show so much deeper, when I bring it back at the end there's a cathartic moment and the audience seems to go a lot more nuts.
"It's a bit of a show and tell of this show that I really love and I think it's probably the final iteration of a body of songs that I guess I've become quite attached to because I've been working on them and messing around with them for a number of years. I'm about to move on to something new so I guess it's just closure on this show, to an extent. I've got a lot of touring planned for this show, it's going to go back up to the UK and through Europe. But in terms of Perth I feel like it's time to do something new after this. So it's a little bit of a send off to that character and that kind of vibe. I hope that a lot of people come and see it so that it's a nice, triumphant end to that cycle."
You can catch 'Tomas Ford: Electric Cabaret' at the Noodle Palace from the 5th to the 23rd of February.
Purchase tickets at http://www.fringeworld.com.au/
Sophie Joske. Image: Shaun Ferraloro