Ugandan police break up gay rights event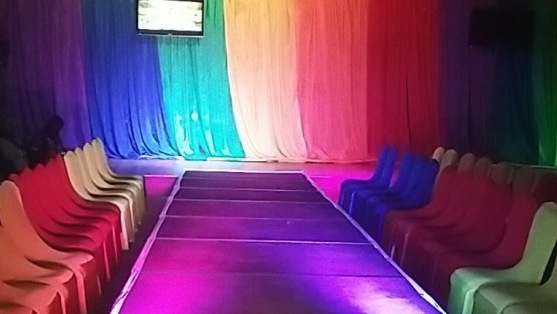 Police stormed a LGBTI rights event in the suburbs of Kampala on Thursday night and arrested a dozen people for promoting homosexuality according to Ugandan activists.
Witnesses have described police scuffling with people, dragging them out of the club, beating them and stripping them naked to ascertain their gender. There have been unconfirmed reports that one person's legs were broken during the altercation.
Clare Byarugaba, as gay rights activist told news reporting agency Reuters that the police were beating people and focused on transgender women.
Pepe Onziema, who is the programs director for non-governmental organization Sexual Minorities Uganda, spoke to US TV network NBC after the altercation and said that officers subjected people to physical and verbal abuse.
The event that was raided was a LGBTI fashion parade that sought to find the new Mr, Ms or Mx Uganda, and was part of the country's Pride celebrations.
Following the police raid a conglomerate of organisations released a statement condemning the police's actions. Among the accusations leveled at police were claims that people had been sexually assaulted, that people's photos were taken and they were threatened with being exposed as homosexuals.
There are also reports that a young man leaped from a sixth floor window to avoid the police. Ugandan activists have reported that he suffered a spinal fracture and is now being treated by doctors.
Read an account of the raid from Ugandan LGBTI publication Kuchu Times  
The Ugandan Police have released a statement describing the confrontation as "a meeting" between the country's Minister for Ethics and Integrity Simon Lokodo and officers from the Ugandan Police Force.
A police spokesperson said the organisers had failed to get the correct permit for a function and the police in attendance had simply giving them notice about the correct procedures.
"The purpose of this meeting was to create a platform for dialogue with the organisers, as well as to caution them against planning public events without duly giving notice to relevant security departments tasked with ensuring the safety of the people in such a jurisdiction." police spokesperson Polly Namaye said.
Homosexuality is illegal in the African Nation. Uganda faced widespread criticism when it attempted to introduce a bill that called for the death penalty for people found guilty of homosexuality.
The country subsequently brought in a law that gave life long prison sentences to homosexuality but it was ruled unconstitutional in the nation's courts.  Currently people found to guilty of having sex with a person of the same gender can be sent to jail for seven years.
The US Ambassador to Uganda, Deborah Malac, said she was dismayed by the action of police in response to what she described as "a peaceful event". The Ambassador said the police's actions were "unacceptable and deeply troubling."
"No person should face abuse or discrimination because of who they are," Ambassador Malac said. "The U.S. Embassy stands with Uganda's LGBTI community and Ugandans of all backgrounds and beliefs to defend the dignity of all citizens. We call on the Ugandan authorities to safeguard the freedoms of all Ugandans under the law."
OIP Staff