Understanding Opera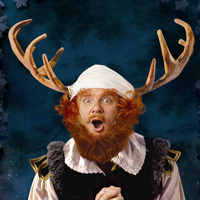 'It's an ultimate art form,' exclaimed General Manager of the West Australian Opera Carolyn Chard when asked to describe opera in the simplest manner possible.
'It's got everything,' Chard went on to explain. 'It's got the orchestra, it's got the singers as principal artists, it's got a chorus, it's got great acting, and there are sometimes dancers.
You bring all these elements together and it makes for one of the most exciting art forms you can have on stage.' Opera has a daunting presence in popular culture. After all, it's an old school art form that has been around for centuries.
And while the worlds of literature and music and art have adapted to the modern world, the majority of opera has stayed true to its heritage.
Yes, there are modern forms of opera, but sometimes opera works best in its most traditional form. For example, most operas are written in Italian. Should audience members worry about this?
'We perform a lot of the Italian operas and this one at the moment, Falstaff, is by Verdi. It is in Italian but we also have surtitles (or supertitles) either side of the stage so you can read the English translation so you can keep up with exactly what's been said.
'But you don't come to the opera to necessarily read about the opera so if you just want to watch you will understand the story.'
Of course, a little knowledge goes a long way to appreciating opera, Chard pointed out.
'One of the best ways to get the full effect of opera is to do a little preparation before hand. So you can either Google the story or go to our website. Even when you arrive at the theatre you can pick up a synopsis sheet or buy a program.
'We also do pre-performance talks which start at 7pm and that's really useful to get a sense of what the performance is about. But opera doesn't have to be complicated. You can just come and enjoy.'
But what to wear?! After all, opera has a huge history of dressing up, people donning the most elaborate and sparkly and fantastic outfits they have on hand. Of course, in this modern age, this isn't necessarily important.
'You can wear anything at all,' Chard explained. 'So yes, you're coming to the opera, and you're also coming to the beautiful His Majesty's Theatre, but you can wear jeans or you can dress up.'
This November WA Opera are running Falstaff, a delightful romp based on one of Shakespeare's most loved characters.
'This is Verdi's last opera,' Chard pointed out. 'Falstaff himself is a really hilarious character and we say in the press material that he's pretty much a Homer Simpson- like character and we use language like that so we can make it relevant to our readers.'
Falstaff runs November 3, 5, 8, 10 and 12 at His Majesty's Theatre.
Visit www.waopera.asn.au for more information.
Scott-Patrick Mitchell
***