Chanting UQ Young Liberals protest children's storytime event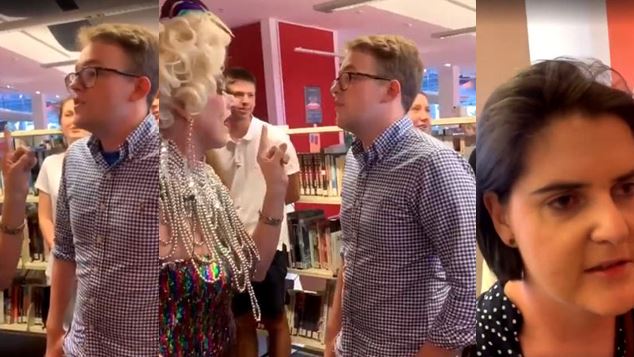 Students from Queensland University's Young Liberal and Nationals Club have protested outside a children's story time event shouting chants at attendees.
The drag story time event was hosted by the Brisbane City Council library, the students stormed the event shouting "Drag Queens are not for kids" at the performers.
The incident which was captured on video shows leaders of the group arguing with the performers while a group of 15-20 protesters chant. Police were called to the library after it was reported that the protesters were causing distress.
Security moved the protesters on before police arrived, but organisers have told the media their actions left distress to the young children attending.
"A group of people disrupted the event, chanting and causing distress." a spokesperson for Rainbow Families Queensland told the Courier Mail. "We deeply regret that the actions of a handful of people caused our children to feel unsafe."
On their Facebook page the University group have rallied against the children's event, describing it as "moral filth" and an "attack on conservative values."
The Liberal National Party have announced that the group is not associated with the party, saying they were disaffiliated in late 2019.
OIP Staff
Liberal Party Australia, Prime Minister Scott Morrison, UQ Liberal National Club, Queensland University contacted for comment. Image:  Twitter / @corydunco
UPDATE: One of the leaders of this protest, Wilson Gavin, has passed away at age 21.
---
Do you need some support?
If you are struggling with anxiety or depression, support and counselling are available from:
Lifeline: 13 11 14 or lifeline.org.au
Beyondblue: 1300 22 4636 and www.beyondblue.org.au
QLife: 1800 184 527 and www.qlife.org.au
QLife are a counselling and referral service for Lesbian, Gay, Bisexual, Transgender and Intersex (LGBTI) people.
---