Bea-UTE Mate! Cultural Cabaret with Ute Lemper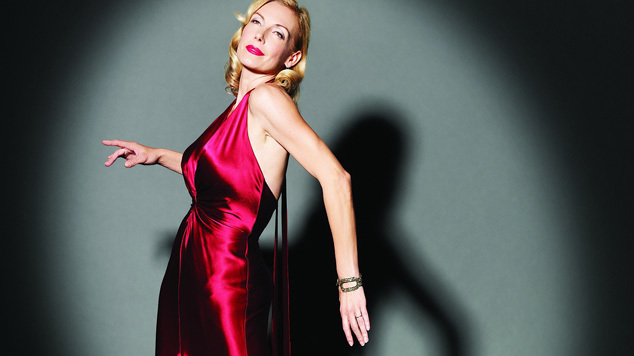 Cabaret superstar Ute Lemper has wowed audiences across the world with her performances of cabaret, poetry and musical theatre.
Her work includes everything from classic German cabaret to the hits of Broadway and works based around the poems of Charles Bukowski. She starred in the musical 'Chicago' in both the West End and Broadway. Her album 'Punishing Kiss' featured songs written by Nick Cave, The Divine Comedy's Neil Hanlon and Elvis Costello.
Soon she'll be here in Perth performing a series of songs based around the love poems of Pablo Neruda and in the second half of her show she'll deliver some classic songs under the banner of 'Berlin to Broadway'. Ute Lemper spoke to Graeme Watson from her home in Manahattan.
When did you first discover the love poems of Pablo Neruda?
Well I have sung South American poetry and the music of South American composers for a while, especially the music of Astor Piazzolla, the great rebel and revolutionary of Tango Nuevo. I was on tour with his music and just imagined, as most of these gorgeous songs were written in the '70s, I just imagined and wanted to create something totally new which came out of the spirit of South America.
I read through various poetry; of different great writers. I fell into the love poems of Pablo Neruda and somehow thought they would be wonderful. They are compact, they are small, and they were not too long. They're very beautiful in their poetry and their realism. I just felt that it was the right thing, and I put it into music, very quickly over the course of the last one and a half years and created eleven new songs.
Does the music accompaniment come easily to add to the poetry?
No, it's quite a process. For me, I live inside of melody and music and live inside of creating musical context around the words; that is my universe. I spent so many years interpreting great composers, great poets in music whether it was Jacques Prévert or Jacques Brel or Brecht, the German writer. It's kind of the territory I love, and the repertoire I love. Having created something totally new a number of years ago about the poetry of Charles Bukowski, I felt that this approach was actually quite easy.
I wanted to keep it in the universe of chanson, traditional chanson. Chanson I have experienced, and that I have fallen in love with over the years. Somehow it came quite naturally but it needed a lot of thinking about the rhythm of the original text, and about the melodic feeling of the original text, and then finding the right chord progression and harmonics and the right melodic feeling and the right phrasing.
Some of the poetry is in the original Spanish, some of it is French, there are established adaptations and some is in English, but more than half of it is in the original Spanish, so I really needed to root myself in the original language and the music of the language and of course the emotional context of the poetry.
How do you choose which language to perform each piece in?
It was intuitive. I'm a very intuitive person and read through the various adaptations and felt it very intuitively. For example, one fell into a blues musical context, so I thought, "Okay, this has to be in English".
Then some of them fell into a very melodic and kind of melancholic context and I thought this was French and a lot of them I kept in the original language as it's the language they were invented in and I felt very close to the root of that and kept them in a South American musical context, with the Chilean groove or Chilean tango.
Pablo Neruda spent a lot of his years in exile in Argentina and his love Matilde was Argentinean and he created a lot of these poems for his love, so I kept it in a more South American and Argentinean context.
It seems there's something a little bit magical when we hear a performance in another language, especially if it's a language we don't ourselves know, you hear the emotion come through, even though we don't know the actual words.
I hope everyone who will either buy the CD with all the translations and adaptations are written out and the same for the live program, people will have the translations.
The music of the language means a lot to me, I love to perform in Spanish, it's a lot gusto, and a lot of passion. It's a beautiful language to sing in and of course French – I'm very connected to. I've sung for so many years in French and English, that's easy for me, but I would say the stretch for me is to sing in Spanish… I love to present it that way. It's a very sophisticated project, with beautiful arrangements and great musicians playing.
I'm definitely trying to make homage to the poet, to his homeland, to his country and to put it into a musical context.  It's a great pleasure to perform on stage. It has moments of great passion and great intimate moments of delicate feelings.
Pablo Neruda who was a poet who was passionate about life, he was like the opposite to Jean Paul Satre who was almost retracted from life and philosophical and emotional suffering. Pablo Nerudo is from the same generation and has a very strong, juicy, joyful approach to life, while painful at the same time. You can feel it in the poetry and I hope you can feel it in the music too.
Ute Lemper plays the Perth Concert Hall on Sunday 15 September, tickets are available from Ticketek.
Graeme Watson
This interview also aired on RTRFM's Artbeat program.