Freak out! VELVET is camp, queer & quintessential Fringe World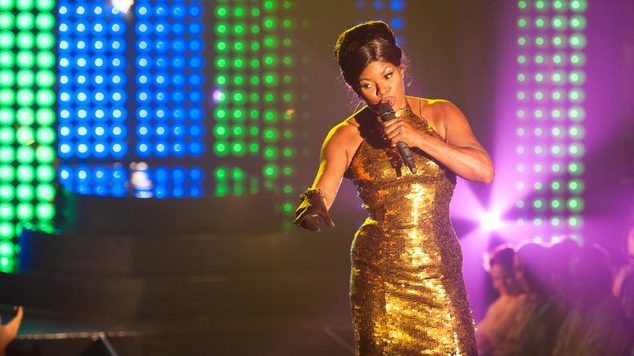 VELVET | West Australian Spiegeltent | Until Feb 19 | ★ ★ ★ ★ ★
Disco has an undeniable affinity with the queer community. I may have been born a decade or so after the genre hit its peak (no shade) but the shimmering dance floor hits of the '70s and '80s persist in gay bars, queer spaces and on the main stage of RuPaul's Drag Race to this day. Why there hasn't been a mirror ball inspired show of this scale at Fringe World (to my knowledge) before eludes me – but VELVET is here and it's glorious.
Drawing inspiration from Studio 54 and the days of stompin' at The Savoy, VELVET takes audiences into a fabulous cosmopolitan nightclub, an escape from the minutia of reality. The Voice alum and human angel Tom Oliver plays the role of the stuffy suit who stumbles his way into the glitzy club and discovers a whole new world under the tutelage of sweetheart siren, Marcia Hines.
The pair propel the narrative of the dialogue-free show with their renditions of disco hits from Chic, Donna Summer, Earth Wind & Fire, Bee Gees and Hines' own You. Both Hines and Oliver never miss a beat with their infallible vocal talent and charming stage presence.
Hines and Oliver are supported by an ensemble of circus performers and two equally impressive backing vocalists (Rachelle Mansour & Kaylah Attad), who steal the spotlight in their own right with their foot-tapping version of Vickie Sue Robinson's Turn The Beat Around with musical director Joe Accaria on the percussion they so love to hear. 
Acrobat Mirko Kockenberger charms the audience from the get-go with his suitcase balancing routine and face melting smile. Muscle man Stephen Williams elicted audible 'ooh's' when he took off his leather jacket, let alone the 'ahh's' when he and Emma Goh flexed their aerial abilities on the trapeze, while Hula Boy Craig Reid maximised the entertainment potential of the hula hoop with his unbelievable antics and artistry.
A fast-paced, wholly entertaining show, VELVET is hard to fault. The show celebrates the queer magic of disco and the sanctum nightclubs can provide. If I had one gripe, it would be the show's allusion to a gay relationship between two characters that never culminates in an explicit confirmation or a kiss – but the building tension certainly had me gripped (and I am incredibly single, so I'm needy).
The performances, music, talents and pacing of the show complement each other perfectly, culminating in one of the best shows to grace the Pleasure Gardens in the past five years. Hey, I've already seen it twice.
George Constanza's famous words seem like a fitting assessment; "I'm ensconced in VELVET. You know, if it was socially acceptable I would drape myself in VELVET."
Leigh Hill
Don't miss VELVET at the West Australian Spiegeltent, playing until Sunday February 19th (except Mondays). Tickets and more information available from fringeworld.com.au