WA Labor accused of homophobia over Christopher Pyne post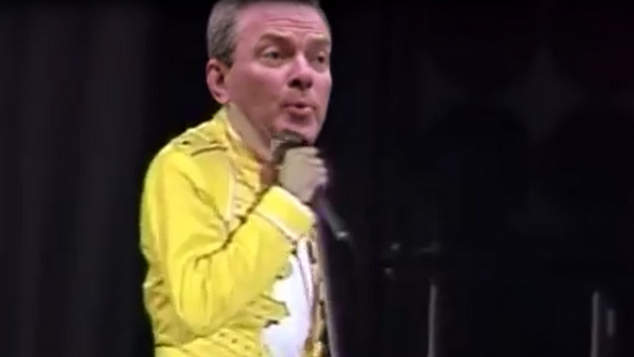 The WA Labor party has been accused of casual homophobia after posting a video which depicts retiring Liberal Minister Christopher Pyne as Queen singer Freddie Mercury.
The short video which was posted to party's social media platforms on Saturday superimposes the retiring Defence Minister's head on the body of the late Queen singer as he sings the band's hit Another One Bites the Dust.
On Saturday Christopher Pyne announced he would be retiring from politics and would not stand at the upcoming federal election.
Pyne is regularly mocked for having effeminate mannerisms, and many followers of WA Labors social media channels expressed their view that the clip had homophobic undertones.
Commenters said it was in particularly poor form to post the video of the day of the Sydney Gay and Lesbian Mardi Gras – the nation's largest LGBTIQ+ celebration.
"This is not a good tweet (homophobic). Delete it." posted one commenter.  "It's 2019, you dimwits. A bare minimum would be deleting it, but an apology too would be better" said another.
"Yeah let's use being gay as a butt of a joke. Come on Pyne has plenty of character flaws without conflating this like this." complained another.
"This is spectacularly poor form I can't even. Get in the sea. – You can do your own research on how many times people have insinuated that Chris is gay. So to photoshop his face on a gay icon is spectacularly poor form. Both to Chris & the entire LGBTIQ community. On Mardi Gras weekend." one Twitter follower added.
"On what planet are *he's a poof* jokes ok? Delete and apologise." suggested another.
On Sunday the post was deleted from the party's Twitter account but remained on WA Labor's Facebook page.
WA Labor's State Secretary Matt Dixon told OUTinPerth there was nothing intentionally homophobic about the video.
"There is nothing intentionally homophobic about our video, our feedback on Facebook has been very well received, on Twitter some have tried to view it in another light which is was never intended.
"WA Labor has a long and proud history of supporting and working with the LGBTIQ community in WA.
"Our video was removed from Twitter late this afternoon as users of that platform raised concerns with the video. It hasn't received the same reaction on Facebook." Dixon said.
"We didn't use Steve Ciobo in the video because no one knows who he is."
The WA Labor State Secretary said people should not read too much into the intent of the video's message, and said those who highlight the video being released on the day of Mardi Gras were reading too much into the video's message; "we're not in the business of taking such a crass pot shots as some have tried to draw connection with." Dixon said.
"People should enjoy the video in the spirit it was intended as a comic use of a classic song to draw attention of another senior Minister abandoning Scott Morrison's Government. "BITES THE DUST" as it would be.
"WA Labor wishes Christopher Pyne all the best in his retirement from public life." Dixon said.
OIP Staff
03-03-19 Update: Comments from WA Labor Secretary Matt Dixon added. 
---