Whitney Richards revisits family and the Rock Eisteddfod in 'I Do, I Don't'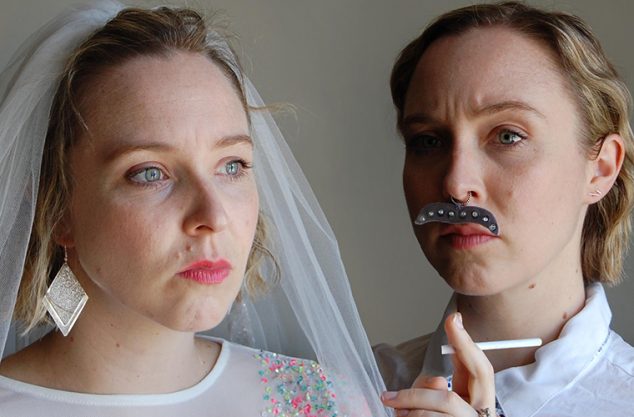 'I Do, I Don't" is an exploration of family, identity and personal history written and performed by Perth-born Whitney Richards. Seeking to recreate memories Richards' suspects she had suppressed the play was pieced together using interviews with her family, recalling fond memories of the Rock Eisteddfod Challenge and inspiration from her namesake Whitney Houston.
"I started writing it when I got home from a tour in Canada last year because I was so inspired by the incredible storytelling of the shows and I realised I had a story but I wasn't quite sure what it was because I have very little memory of my childhood," Richards told OUTinPerth.

"So I went and interviewed my four main family members and I transcribed those interviews and edited them and I play them in the show."
Richards' said she has never been sure why she can't recall her childhood clearly, and writing 'I Do, I Don't' was about finding out why.
"I spoke with my half-sisters and we discussed the potential of blocking out memories that are too painful. Because there's a lot of pain between my family, we weren't brought up where storytelling was so big so after my parents split up I don't think anyone really wanted to talk about what happened."
"I think memories are kept alive by the telling of stories and anecdotes… the good and the bad. That didn't happen to me, so that's what I tried to extract from my family."
Richards says the painful memories are tempered by a story line that recalls a 13-year-old Whitney being seduced by the world of the Rock Eisteddfod Challenge, and meeting her theatre family for the first time.
"It was my introduction to the performing arts family. Your chosen family. I could express myself – I've always sort of had a disconnect with what I feel and how to express that and I think it was a way I was able to just turn up the music and move and express without having to think. Also it was silly fun, but we felt like we were doing something really important. I have these explicit memories of how all-encompassing it was. It was everything and it was great to relive that."
The Rock Eisteddfod scenes allowed Richards to smother herself in sequins and belt out some pop hits, including a selection from her namesake Whitney Houston. Besides singing, performing and writing the show, Richards just returned from Canada where she also managed and produced herself.
"Solo shows are their own crazy beasts. It's madness. It's really hard to know what you're doing! you just have to keep going and talking and moving but ultimately it was so rewarding and I have come out the other side a much better artist."
Glad to be back in Perth with a team at her side, Richards says the story is for everyone with a less-than-nuclear family.
"It's a play about acknowledging your past so you can move forward and figure out who you are and who you want to be."
'I Do, I Don't' is at The Blue Room Theatre from Tuesday August 16 – Saturday September 3. Tickets available from blueroom.org.au
Leigh Hill
Image:- Tim Green