Why is everyone talking about The Sydney Gays podcast?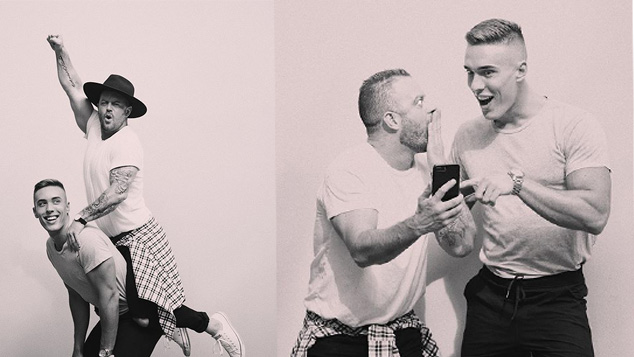 A new podcast launched this week and within hours of going live it was generating a ton of online discussion, but probably not in the way that the creators had hoped.
The Sydney Gays is described a passion project of Sydney men Wil Sabin and Jay Fisher. The show is described by its creators as "Two local Sydney gays, delving into the Sydney LGBT+ community, where nothings off limits!"
The first episode sees the pair talking about how they met and what they've recently been spending their time doing. They promise at the top of the show they'll be chatting about things "beyond the Instagram filters, opening the dialogue for a more inclusive community."
The 10 part series promises to feature the top LGBTIQ+ celebrities and rights advocates in the country, and will cover sexuality, health and great brunch spots.
Launching into their theme tune, the duo sing "Who do they think they are, I know them from the gym, see them at Beresford, The Sydney Gays!"
The duo speak about their 'peaks' and 'pits' of the week, which parties they've attended, and how they first met at the gym. Former army recruit Jay shares that he's now the General Manager of a real estate company, but also has a 'side hustle' as an Instagram influencer, where he has 170,000 followers.
Wil Sabin talks about his role running his company Wil Sabin Entertainment, which sees him working with some of the biggest stars in the country as a choreographer and sought after dance teacher. Years ago Sabin launched a music career, releasing several singles, and went on to become a DJ and nightclub operator.
"I got into it, I conquered it, and I had the time of my life," Sabin said of his time at the top of Sydney's gay scene. The choreographer said his biggest inspiration is himself and he often looks back at his own press cuttings and finds joy is listening to his own music.
In a segment called 'Chic' or 'Shit' the duo share their views about Instagram, dating apps, their love of botox and their dislike of people who FaceTune their muscles to look bigger.
Within the first 24 hours of the show being released it's scored almost 260 reviews on iTunes and been awarded an average of 1.5 stars.
"Truly vapid, problematic white gay hosts with no self-awareness, who perpetuate every terrible stereotype about the gay community in Sydney." one review read.
"This podcast does not reflect the diversity of Sydney's queer community and is an insult to anyone who isn't a messy circuit queen." a listener commented.  "This podcast epitomises everything WRONG with the gay scene. Shallow, fake and superficial. In no way are they an accurate representation of the typical gay individual." said another.
Many listeners said they found the duo's constant interjections of "honey", "gurl", "yaaaas!" and "sister" grating to listen to.
The show also generated a lot of discussion amongst LGBTIQ+ people working in the media, drawing a mix of criticism and encouragement.
Hopefully things will improve before the show's second episode drops. Check out The Sydney Gays.
OIP Staff
---