'Wicked' Opens Its Doors in Perth!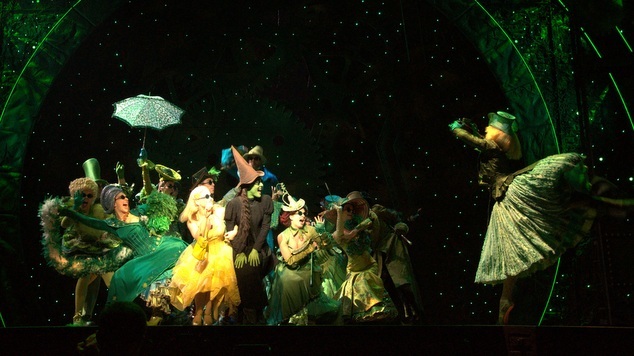 One of the world's most popular musicals opens tonight in Perth at the Crown Theatre. 'Wicked', known as 'The Untold Story of the Witches of Oz' can no longer called itself untold, having been performed in over four continents over its twelve-year history. OUTinPerth took a look behind the scenes of the critically acclaimed production.
The Perth season is especially significant for Suzie Mathers, who plays the good witch Glinda. Mathers was raised in Perth and studied musical theatre at the Western Australian Academy of Performing Arts. In 2008, Mathers joined the ensemble of 'Wicked', taking on the role of Glinda in 2011. She recently celebrated her 500th performance in the role in Brisbane.
"I wasn't expecting to come back to Perth" She said. "It's really great to be able to perform this amazing show here in this venue which I grew up singing and dancing on as a kid."
Opposite Mathers is Jemma Rix as Elphaba, the show's pivotal character, the misunderstood Wicked Witch of the West, and an ensemble cast of over 30, including well-loved Australian actors Maggie Kirkpatrick and Simon Gallaher.
'Wicked' is a spectacle to behold and requires a huge team to transport, maintain and operate the enormous, ornate set. According to technical director Cameron Flint, 18 semitrailers were required to take 'Wicked' on the long drive from Brisbane to Perth.
"We worked for six days to build the show, build the big bits and pieces. That includes three overnight shifts as well. An extra day to focus all the lighting, another day to tune the room with the sound system and one final day of dry technical rehearsal, which is when we run the whole show without the cast." he said.
This is only the beginning. Once the cast become involved, they are required to undergo 262 costume changes throughout the show, the fastest of which is only 14 seconds. There are approximately 350 costumes in each performance, including 70 wigs individually made to fit each performer. In the orchestra pit, over 100 instruments are used.
To become Elphaba, Jemma Rix spends forty minutes in make-up to turn the appropriate shade of green. The actor joked that she always looks "a bit off" after performances as a tinge of green always remains.
'Wicked"s executive producer Bernadette Hayes said that the support of musical theatre in Perth was integral to the show's return season.
"We wouldn't be coming back unless there was a pretty well insatiable appetite for what we're doing." she said. "'Wicked' is a spectacle, 'Wicked' is an event, but it is a very special show."
'Wicked' is at Crown Theatre until May 23rd. Tickets available from Ticketek.
Sophie Joske