Yes! Festival: Seven reasons to rally on the Seventh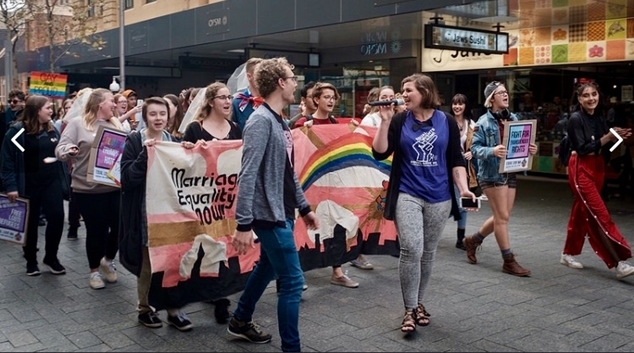 In Equal Love WA we've spent a lot of time trying to convince people to come to rallies. As fresh-faced young activists we believed that an earnest and impassioned argument was all that was needed to convince people to give up their Saturday afternoon to rally, and for most ordinary people, it's worked.
We are in debt to those who have supported us over the last 13 years. Now we're facing the most important moment in the history of the campaign, and we need Perth to come out like we've never needed before.
The Yes!Festival on October 7 is shaping up to be the biggest showing of LGBTI support WA has ever seen. Here are our top seven reasons to rally on the seventh.

1. Equality, and nothing less
We all want marriage equality, but what would it actually mean to LGBTI people in Australia? The legal argument for equality is huge – LGBTI couples would no longer be denied access the safety net that marriage provides in respect to illness, death and families.
But beyond this, marriage equality represents a monumental leap towards the legitimisation of the LGBTI community in this country. No one ever wanted this postal survey. But if it does come back with a resounding 'Yes' vote, we'll know that the rest of the country has our backs.
Australia has one of the highest rates of public support worldwide – not because of clever arguments, not because of enlightened politicians, but because of a sustained public campaign. For many people, putting their envelope into the mailbox is not just about the law changing, but a powerful symbol of their own empowerment. 
2. It's not over till it's over
It's no accident that the postal survey will drag on for months. One of the biggest worries of the campaign is not whether or not people are in favour – we know they are! – but whether they will physically turn in their ballot. Young people and first time voters have registered in record numbers, invigorated by the strength and defiance of this campaign. We want them by our sides when we win.
Then, if we win the postal vote, some Liberal Party members have already said that they will ignore the results of the postal survey. But we're no strangers to delaying tactics. We know we'll get over the finish line, but we need our community standing strong with us.
3. We're here, we're queer…
And the media is getting used to it. The Yes!Festival is smack-bang in the middle of the campaign, to keep the spotlight on the issue. There has been an over-saturation of the 'No' campaign in the media (four times more coverage than the 'Yes' campaign, to be exact). But from the 'Yes' camp's terrifying text messages to Safe Schools causing our children to drown in a sea of gender fluid, times are tough for the homophobes. In east coast cities it's impossible to avoid the posters, rainbows and pride flags everywhere. A massive, vibrant rally of Perth's LBGTI community and supporters will be WA's answer.
4. Community spirit
The Yes!Festival aims to showcase everything LGBTI Perth has to offer – community groups, political organisations, unions, student groups, and sports teams will all be representing.
We want the Yes!Festival to be an antidote to the negativity. A report from five of Australia's most respected mental health groups has stated that marriage equality could prevent 3000 teen suicide attempts each year. Some of those hardest hit by the hatred unleashed by the plebiscite are the most powerless to stop it – they can't even vote for their rights. People of all ages are welcome at the Yes!Festival. They might be our most vulnerable, but they're some of our fiercest fighters.
5. Be part of history
Last month Melbourne held Australia's largest LGBTI rally of 30,000 people. Then Sydneysiders smashed that with 50,000. Tens of thousands turned out in other cities, and now it's our turn. If you've never been to a rally before, go to one! It's a wonderful feeling standing shoulder to shoulder with thousands of people, all there because they're fighting for change. This could be one of the biggest rallies Perth has ever seen. Why would you be anywhere else?
6. Go for those who can't
We all have someone we're fighting for. Some of these people will be standing next to us at the rally on Saturday. Some won't.
One of the things that we call on when the road to equality seems too winding and treacherous is former Equal Love WA convener Amber Maxwell. At just 20, she had already been a warrior for marriage equality and transgender rights for years. She was taken from us tragically young, but her tenacity and fighting spirit lives on.
Whether it was the early days of gay bashings, the AIDS epidemic or the sky-high rates of youth suicide, we have always pulled together as a community to fight for our rights. And we'll keep on doing it, for Amber and for everyone else.
7. Celebrate how far we've come
Come along and enjoy the day! Rock star Abbe May will be appearing, Gay and Lesbian Singers of Western Australia will be performing, there'll be speakers and stalls, grass to relax on and face painting for the kids (and adults!). The Yes!Festival will be a day to celebrate our community, the people we love and how far we have come in this campaign. Come and be part of it.
Yes!Festival is on this Saturday October 7th from 1pm in Russell Square, Northbridge.
Miranda Wood
---
Support OUTinPerth
Thanks for reading OUTinPerth. We can only create LGBTIQA+ focused media with your help.
If you can help support our work, please consider assisting us through a one-off contribution to our GoFundMe campaign, or a regular contribution through our Patreon appeal.