It's Dark Outside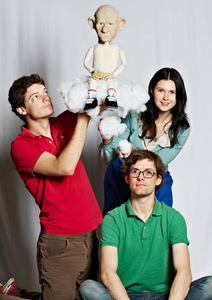 Perth theatre trio Tim Watts, Arielle Gray and Chris Isaacs, of Weeping Spoon Productions, brought us The Adventures Of Alvin Sputnik: Deep Sea Explorer back in 2009. The production delighted critics and audiences alike, and positioned the troupe as the new wunderkinds of performance puppetry.
It's now three years on, and Weeping Spoon are set to launch a new offering. It's Dark Outside is a compelling, sometimes brooding but (according to Chris Isaacs) infinitely uplifting new piece that broaches the reality (and fantasy) of dementia. Isaacs spoke to Kathryn Tenger just prior to its opening at the Perth State Theatre.
Tell us a bit about how you got into puppetry – did you come from the production side or the performance side?
I met Tim and Arial who started working on It's Dark Outside about 7 years ago. I got involved with working with them and the companies they worked with on the technical side. That progressed to the puppetry side of things and then I did a workshop with Michael Barlow of Spare Parts. I also worked with them with the Big HooHaa, the improvised comedy group. Then it has really been an occasional thing on and off – but not a lot of performance. Most of the stuff I've done is production.
So which side of it do you prefer? Is it the production side or are you an all-rounder and enjoy all of it?
I am really happy to do any part of it, in any capacity.
I like working on a show that is good, that I feel is important, I like working in all the different capacities. In fact, I'll do anything people ask me to in this industry, especially if they pay me! It's one of those things – I put my hand up and say 'Yeah I'll do that.' I might not necessarily know exactly how to do it but I'll give it a go.
I guess that keeps it really interesting as well and you learn a lot more if you pick up everything and become master of all trades?
Yeah and that's kind of the way we have been working on this show. We've all had an input into lighting, sound and the set – how things look and feel.  You know we all move this puppet together – We'll work with the puppet then hand it over to someone else and so on.
So it's control from everyone, not just one member of the team?
I'm not sure if control is the right word…it's more like an organic, artistic mush.
Like jamming but with puppets?
Yeah it's a lot like jamming, in fact jamming is great word for the sort of thing we do.
So tell me about how the show has evolved? Has anything changed since you started working? Is there any one particular thing that you have improvised or added since it started?
That kind of improvisation and not having expectations is something we try to do all the time, try and keep ourselves open to. There are a few things that come up that are unexpected and we think collectively 'this is the greatest idea we've ever had', then we look at it the next day and go, 'Actually that's really pretty bad' [laughs].
So you're all quite sensible then, there's no one person out of all of you who is actually a little crazier than the other two?
Ahhh, the three of us are all pretty crazy at different points, depending on what we are looking at or doing at the time – we can all have our moments of craziness! I think that because we are all from an improv. background, we all know that these things benefit from having boundaries that are pushed, or broken or altered or changed…and then from that, you create scenes.  If you are talking about the show changing over a period of time, well Tim and Arial have been working on this for almost a year and I've been on board for the last three or four months. The original idea was about a gorilla that shaved itself and stole a baby. So that character has gone.
So it really has evolved if the shaven gorilla has gone?
Yes [laughs] I guess it has.
So what are the core themes of the show?
It's about an old man who suffers from a symptom of Alzheimer's disease called Sundowning Syndrome (Sundowners go wandering at sunset). He begins to wander away from his house into the wilderness and the wild, and really the story from then on is about him trying to keep the world around him in his grasp.
So it's hard to tell what's real and what's not, what's part of his internal experience and what isn't?
Yeah and we deliberately tried to keep open around that. We are always having conversations around what is really happening, what is really real and are we going to show the reality of the moment. I think we are also very cautious about not making any sort of statement about what it is like to be a sufferer of Alzheimer's – we're telling a theatrical story – with a character that has Alzheimer's, that's all, and we do treat it with all the respect it deserves.
And how about the State Theatre?
It's a really cool space, I'm standing in a great big, dark beautiful performance room right now.
It must be great working in a space that's purpose built – you often end up working in areas which were originally old community buildings etcetera?
But then they also have a certain charm too. Arial has performed on the Heath Ledger stage but I haven't yet.
Are you looking forward to opening night?
We are just wanting people to see it and I'm very excited about seeing reactions of people to the piece. I can't wait. Hopefully they come away from it with a bit of hope, because it is such a dark topic. We're looking to at not making it too depressing. The one thing we are trying to do is create hope and there is a lovely poignant feel to the story. I think we have been looking forward to it for a while. We're pretty happy with where we are with it but we're still tweaking it and moving along.
It seems like not long, but are you saying anything could happen to the piece in that short time?
Yeah a week's heaps of time! Anything could change.
So is there anything else in the pipeline?
We're really just focussing on this now and hoping it will continue and have a life of its own. Other than that, Alvin will continue up until the end of the year and that will keep us pretty busy.
Is there anything else you would like to share with our readers?
Just come see the show – for sure. I feel really proud of what we've got. I don't say that about many shows I work on but this one I do.
It's an exciting way we tell the story and how we do this, I mean we don't use dialogue, we have beautiful music by Rachael Dease. Everything is quite amazing and there are moments in the rehearsal room – like today or yesterday for example – where we stop and just take a look at something we've got and just go Wow!
Goosebump moments?
Yes, definitely.
It's Dark Outside runs from Friday Jun 29 until Saturday July 14 at the State Theatre Centre Western Australia.
Kathryn Tenger