Tom Ballard is Coming to Town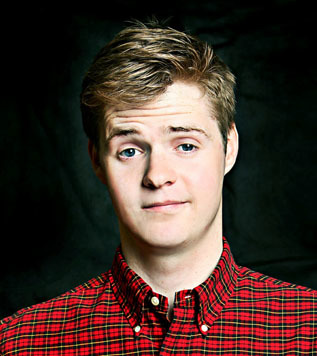 The young gay comedian exploded with laughter and exclaimed 'why is it always a competition with you people?!' – Tom Ballard is coming to Perth with fellow comedian and housemate Rhys Nicholson to perform stand up during PRIDEFEST. My question? Who he thought would be funnier.
'Look Rhys is much funnier than I am, but I'm more famous! Oh look, I have no other choice. Rhys's "funny" has reached a peak but my fame WHO KNOWS! Rhys is great'.
When asked what it's like living with Nicholson, Ballard was a mix bag of emotions – 'It's good until recently when he has been writing his new show for the Sydney Fringe Festival and he's been fucking miserable to hang out with. He was worried he doesn't have enough jokes and it wasn't going to work out. Of course it did and it was all a success, he's been a grumpy git.'
Known for mocking the size of his own penis on stage, Ballard promises to discuss his genitalia to the predominantly gay Perth audience –
'Look my penis will feature, because it's what the fans want. It wouldn't be a Tom Ballard show without it. I recently read that penises are a whole are ten percent shorter than they were fifty years ago. I don't think I have a particularly small penis but compared to the rest of my body which is 6 ft 3 there's just this sense of being short changed. Some blame feminism for shrinking the penis', he said. 
Ballard is excited to perform in front of a predominantly gay audience for Pride, he discussed the differences from a mainly hetero audience – 'I love that sort of stuff there's a lot of shorthand jokes. A big proportion of my audience are gay. After a while jokes are just jokes they translate across a bunch of audiences.'
Count your blessings Perth queers – Ballard is only visiting Perth to perform stand-up during the month of Pride festivities. 'Just Perth baby! I just feel like that's where the problem is, where there isn't enough pride. Kalgoorlie's fine, but Perth needs to get a bit more out and proud I think.'
Over the weekends performances keep an eye out for Ballard on the local gay circuit, he visited Connections during his last visit and plans to return. The young comedian traumatised friends by bringing them along to an infamous Connie's drag show – 'They walked up the stairs and there was a drag show on, my very straight friend said "oh this place is awesome!" I told them they were men and they left shortly after.'
Tom Ballard will be performing down stairs at His Majesty's Theatre on October 26 and 27.
Nadine Walker